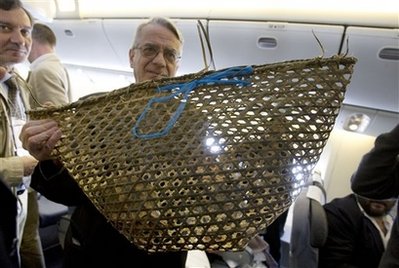 But I think they finessed it pretty well. John Thavis has a blog post, and auto-corrects that it is a "tortoise" not a turtle. If you don't know the difference, you are probably not interested in this story anyway. At dotCommonweal, Mollie Wilson O'Reilly (herself the caregiver, for 18 years, of a box turtle–which is actually a tortoise) posits that Benedict's gift might be a hingeback tortoise. Cool. The pontiff showed remarkable restraint in not taking it with him. But probably a good call. And a good lesson to the kids. Here's CNS:
Although Vatican officials initially spoke about finding a home for the turtle in the Vatican Gardens, in the end they asked staff members of the Vatican Embassy in Luanda to find it a proper home, said Jesuit Father Federico Lombardi, Vatican spokesman…

…The fate of the turtle was a little unclear at first. Vatican officials aboard the papal plane to Angola told reporters it had been left behind in Cameroon.

But a few minutes later, Father Lombardi walked into the journalist section of the plane carrying the turtle in a woven cage. Reporters snapped photos as the brown turtle, about eight inches long, poked its head out from under its shell.

At that point, the spokesman said he was not sure if the turtle would make the return trip to Rome and take up residence in the Vatican, but he suggested it might find a home in the Vatican Gardens.

However, leaving Angola March 23 for the flight back to Rome, Father Lombardi told reporters the turtle was "in good hands" with the staff of the nunciature in Angola because it was decided the African turtle should live in an African habitat.