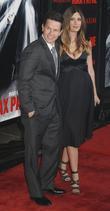 Mark Wahlberg is a movie star, producer of the HBO series "Entourage," and a Catholic, and fame and faith seem to overlap–even at Mass. "I go to church and people ask me if they can be on 'Entourage,' what's gonna happen. I go to church to worship, I don't go to church to talk about it," the celebrity tells a fan website.

"The stuff that I did with my entourage back in the day is stuff that I'm not proud of and I'm asking forgiveness for; I don't want things brought up in church…I get scripts, resumes, books–people tried to come up to me with a children's book before and I wouldn't take it. They got upset with me. This is church."
Not fair. But, as Wahlberg notes, "if you go to church in Beverly Hills, those kind of things happen."
On the other hand, he's lucky some Catholics don't fry him. Wahlberg
just last month confirmed
that he and his longtime girlfriend, Rhea Durham, are to be married–finally. The couple have been together since 2001–they have year old daughter Ella, two year old son Michael and newborn son Brendan–but Mark had some commitment issues. Not anymore.
The wedding next August will be "in a Catholic church, small, family only, no media!"