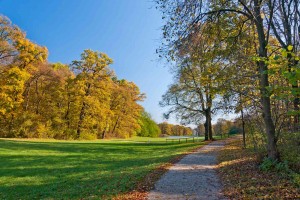 Even though I spent many years living in the country, away from city life, it didn't necessarily mean I spent much time outdoors; especially during winter months. And unless I sent my kids out to play, they didn't either. In every direction was an expanse of green trees, hills and endless miles of Mother Nature. My driveway curved through a pasture, and my backyard was a huge mountain alongside a slow moving river.
As my garage door closed behind me, I entered my warm house without having to be outside. As I did an inventory of my lifestyle, I realized I rarely had to be outside no matter where I went. Unless I made the effort to leave my house and go for a walk, I never even got a breath of fresh air. I lived right in the middle of nature, but I had become an observer of its beauty. I wanted my children to learn to appreciate all the aspects of nature firsthand,by being in the middle of it.
Whether you live the country life, in the suburbs or in the city, you can teach your kids to better commune with, or at least have an appreciation for, being outdoors and for everything nature has to offer. It's not just the aesthetic ofnature that you can benefit from, but also in the manner in which it enhances your being and what you're living.
Some of the ways in which you and your kids can benefit from being outside:
~Nature is energetically grounding. Your feet on solid ground connect you with the Earth energies.
~You can fill your lungs with oxygen, which stimulates all of your cells.
~It can enhance your sense of wonder as you observe the perfection that is nature, and how it works together.
~Your appreciation of life can expand as you interact with or observe plants and animals that live in the environment.
~Experiencing the awe on a clear night as you look up at the stars.
~Your sense of smell is enhanced as you breathe in the grasses, flowers, and unique odors that make up the great outdoors.
~Sight becomes clearer as the sharp colors of your surroundings come into focus.
~There is calmness in nature that isn't found elsewhere. As you breathe deep and just "be," you have the opportunity to find a deep level of calm.
Children respond to activities and action, so we took them on many outings in our quest to help them appreciate being in nature. A few of our family favorites were:
~Camping; the entire family can participate.
~Nature walks in parks or recreational areas.
~Sleeping outside in our own yard.
~Visiting Botanical Gardens.
~Visiting the beach.
~Planting a tree or a flowerpot.
~Helping out with gardening tasks.
~A walk around the block, consciously observing the surroundings.
Show your children how to take a deep breath of fresh air and communicate with them about how nature sustains our lives and the world we live in.
You can participate and appreciate being in nature, no matter what the weather is.
Perhaps much of your day or your children's are spent inside. Making a deliberate choice to put aside what you're doing and visit the outdoors has the opportunity to stimulate and energize you in a wonderful new way.
Please feel free to comment.
© 2014. Sharon Ballantine. All Rights Reserved.