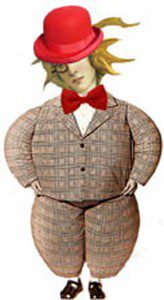 What does your body have to say about how you are living your life and the foods you are stuffing into her? Do you know? Hve you been paying attention? Or have you been overriding the sound judgment that your body has been trying to express?
Be a Good 'Body' Listener.
How often do you really listen to your body? How often do you hear her moan and groan, "I'm stuffed, you can stop now," but you choose to ignore her? How often does the sight or smell of food drown out her words of wisdom? How often do you drift off into a sugar-glazed coma?
It takes practice to be a good 'body listener,' but in being one you are not only sending a message to your body that you care, you are also putting yourself in a much better position to act responsibly.
Open Your Ears and Listen
Your assignment for today is to practice 'intentional listening.' Plan to sit with yourself before breakfast, lunch and dinner, if even just for a minute or two or three if you can. Close your eyes and respectfully ask your body, "How are you feeling today? Are you getting what you need? How can I help you? I am truly listening."
The Power Within
Just sit. Just listen. Make yourself available … to you! All the answers you need are within you and your body is just waiting for you to stop and listen! You may not have realized the power of listening yet, but this exercise will prove it to you
For more listening, hearing and talking join Our Lady of Weight Loss's KICK in the TUSH Club/FB!
Spread the Word …. NOT the icing!
Janice Taylor
wise * fun * utterly useful
Sign up for the KICK in the TUSH CLUB monthly e-newsletter, sign up here.
To join the FACEBOOK/KITT Club, click here!
For one-on-one coaching, contact Janice.