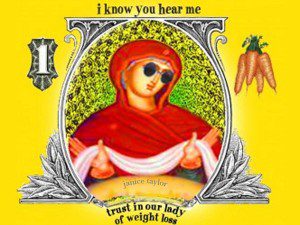 This week's Get Jiggy Weight Loss JigSaw Puzzle, "In Our Lady We Trust," is inspired by Tax Day, April 15, a time for many about money!
As you click through this week's puzzle, "In Our Lady We Trust," think riches, think money, thing problems/issues/challenges of all kinds melting away.
Click the Puzzle: In Our Lady We Trust
Send as a Postard: e-CARD "In Our Lady We Trust" to a Friend.
For mo' riches ad join Our Lady of Weight Loss's KICK in the TUSH Club/FB!
Spread the word–NOT the icing,
Janny Taylor
Sign up for the KICK in the TUSH CLUB monthly e-newsletter, sign up here.
To join the FACEBOOK/KITT Club, click here!
For one-on-one coaching, contact Janice!