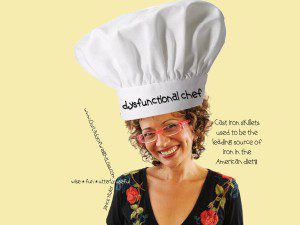 Hello All!  The Goddess of Cooking Healthy and Warm Dishes (cousin to Our Lady of Weight Loss) smacked me upside my head and said, "Hey, get thy slow cooker out of the closet and get busy. Winter is the perfect time to cook up a Chick Pea Curry.  Especially on these snappy cold days!"  And so I did, and The Goddess was right!  This dish is delish, healthy, and all that took part enjoyed it.  Lots of "Oh Yum Good" heard throughout the land!
FYI, just in case you do not know, a slow cooker is the same thing as a crock pot and I couldn't live without one.  Okay, that's a little strong.  I could live but my cooking wouldn't be the same. 🙂
Enjoy this 5 Yum Curry!
Ingredients:
2 large, peeled sweet potatoes (and/or yams)
1 head of cauliflower florets
1/2 large sweet onion
1 heaping tablespoon curry powder
1 tablespoon brown sugar
1 tablespoon grated fresh ginger
3 garlic cloves, minced
salt n' pepper to taste
1 (16-ounce) can chickpeas (garbanzo beans), rinsed and drained
1 (14.5-ounce) can diced tomatoes, with liquid
1-1/3 cups coconut milk
1 package extra firm tofu, drained and cut into cubes (read below before cubing)
1 tablespoon canola oil*
3 cups hot Jasmati rice, cooked
*Why canola oil vs. vegetable oil?  Read on.
Directions:
With love in your heart place sweet potatoes, cauliflower florets, onion, curry powder, brown sugar, ginger, garlic, chickpeas, and diced tomatoes in your 4-quarter slow cooker.  Stir well.  Cover and cook on LOW for 4 1/2 to 5 hours or until vegetables are tender.
Place tofu on a few layers of paper towels, and then cover the tofu with a paper towel.  Gentle press to absorb the excess moisture and then cut in cubes.
Just when the 4 1/2 hour mark comes to pass, heat a large on-stick skillet over medium heat.  Add oil to pan, coat.  Add tofu cubes.  Cook for 8 to 10 to 15 minutes…whatever it takes to get those 1/2 cubes browned.  Turn with a spatula.  And then add to the slow cooker.  Cover and cook on LOW for an additional 20 minutes.   Add salt n' pepper to taste.   Make sure vegetables are the way you like them.  If you need to Slow Cook for an additional 15 mins., do so!
Serve over and next to rice.   As far as I can tell, one serving of the curry is about 200 calories, plus rice.  A meal in one bowl for about 350 calories.  With a salad, and OMG, you are set to impress!
Enjoy!!!
Healthfully yours,
Janice
Sign up for the KICK in the TUSH CLUB monthly e-newsletter, sign up here.
To join the FACEBOOK/KITT Club, click here!
For one-on-one coaching, contact Janice!