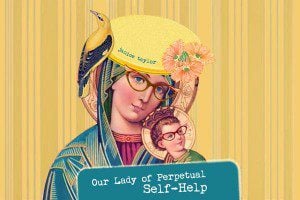 Many of my clients tell me that they feel as if they are entitled to a treat after a long, hard day at work or a complicated day at home. They say, "I deserve to have a piece of cake."
The truth is that you deserve way more than a slice of cake, (no, I am not inferring that you deserve the entire cake!). Cake only lasts for a short second and then it turns on a dime (or a crumb) into a self-deprecating rant.
You deserve to have what you really, really want, which I believe is to feel at peace, to love and accept yourself, to be free of any and all self-deprecating and self-sabotaging thoughts. Letting go of the negativity will lighten your load, for sure!
Instead of turning to a piece of cake … try turning a deaf ear to cake and one or more of Our Lady of Weight Loss's A Baker's Dozen: Thirteen Ways to Reward Yourself at the End of a Hard Day as you Revel in the Glory of Your Greatness (Whew! Now there's a mouthful!)
Curl up in the corner and read that book that you've had your eye on (oh, could it be Our Lady of Weight Loss!)
Download your favorite i-Tune for only $1.29 (more or less). A cheap thrill!
Order groceries on-line, with your feet up. (A weigh-safer way to shop, even if you are hungry).

Go for a ride on a motorcycle (wear a helmet, please!).
Send the laundry out – let someone else fold the towels.
String a hammock in your back yard and swing baby, swing.
Get a manicure and a 10-minute massage! If you usually get a plain jane color, go bold – if you usually go bold, tone it down.
Go to the movies, alone. (So great not to have to worry if others like the movie, or not.)
Take a walk on a hiking trail or in a park, or around your neighborhood. Walking instead of driving about will give you a different perspective on where you live.
Take in deep cleansing breaths. Don't underestimate breathing. It's an amazing thing!
Rent a convertible and go for a joy ride. Blast the radio or your favorite CD while toolin' around the country side.
Go Mehndi. Mehndi is the Indian word for Henna. Henna is a beautiful and natural plant product that stains the skin a reddish brown color. When applied properly and in intricate designs you have a natural and temporary "tattoo" that gradually fades away as the skin regenerates.
Dye your hair a new color – or brighten up your highlights.For more solid, smart, utterly useful and fun advice, join Our Lady of Weight Loss's Kick in the Tush Club/FB!And–for the full skinny sign up for Janice Taylor's (monthly) Kick in the Tush Club newsletter!

Spread the Word-–NOT the icing!

Janice Taylor, Life and Wellness Coach,
Weight Loss Expert, Author, Artist, Positarian
——————————————————————————-
For the best life, wellness and weight loss wisdom,
visit Janice: Our Lady of Weight Loss
Sign up for the Kick in the Tush Club newsletter!