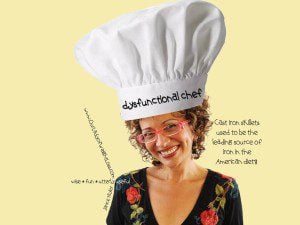 This recipe hails from the insanely funny, motivating and smart book:  All Is Forgiven, Move On: Our Lady of Weight Loss's 101 Fat-Burning Steps on Your Journey to Sveltsville!  The book is chock-a-block with all kinds of good information that can help you to burn fat.  Make this, eat this, be smart, lose weight…Sometimes it's that simple!
You Don't Have to Be Einstein Tuna Casserole
Ingredients:
8 ounces wide egg noodles
2 cans tuna in spring water, drained
1/2 cup low fat yogurt, plain
1/2 cup sliced black olives
1/4 cup green olives
1/2 teaspoon salt
1/4 teaspoon pepper
1/8 cup butter
1 cup breadcrumbs
1/4 cup Parmesan cheese
paprika
additional black olives for garnish
Instructions:
Preheat the oven to 350 degrees
Cook noodles per instructions on package.
In a medium sized bowl, mix together the noodles, tuna, yogurt, black olives, green
olives, salt and pepper.
In a small bowl, melt butter.
Add the bread crumbs and cheese.
Pour the breadcrumb mixture over the noodle mixture.
Sprinkle with paprika.
Bake the casserole uncovered for 35 minutes.
Garnish with black olives
For more smart food,  join Our Lady of Weight Loss's Kick in the Tush Club/FB!
And–for the full skinny sign up for Janice Taylor's (monthly) Kick in the Tush Club newsletter!
Spread the Word-–NOT the icing!
Janice Taylor, Life and Wellness Coach,
Weight Loss Expert, Author, Artist, Positarian
——————————————————————————-
For the best life, wellness and weight loss wisdom,
visit Janice: Our Lady of Weight Loss
Sign up for the Kick in the Tush Club newsletter!