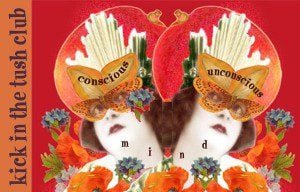 I received an email from a member of the Kick in the Tush Club, who greatly suffers when at social functions. Parties and gatherings bring forth extreme feelings of discomfort. In order to feel better, she eats. And sometimes she eats some more.
I thought I would share her letter here, because I know she's not alone. Many of us are uncomfortable in these types of situations. Many suffer from social anxiety. What advice do you have for "N?"
Dear Janice ~ I, too, am seeking permanent thinness. I do fine at home, at work, at restaurants, at night, in the car. It's the social events that drive me out of "won't power" to bunches of this and that, usually chocolate thises and thats.
No one does this to me; no pushy offers. It's me and a party that is a lethal combination. I don't like parties; but I do like sugar in most any form. The only person I need to say no to is me, so it's the "won't power" vs. piles of cookies and sitting around. I've found myself washing the hostess's dishes so I don't have my hands in the candy bowl. Do I need to wear elbow-length white gloves so picking up chocolate would be disgusting?
Suggestions are welcome. Best, N.
Dear N. ~ I do like the visual of the elbow-length white gloves! It's almost as 'bad' as me duct-taping my mouth closed when cooking!!
All kidding aside, it sounds like you are extremely uncomfortable in social settings that require schmoozing and mixing it up people you may or may not know. You're not alone. Many people have difficulties in social settings.
Now, I could give you the basic advice that you may have heard before.
Eat something before you go, so you won't be famished and go off the deep end.
Decide ahead of time how many cookies you're going to have. And stick to it!
If possible, bring a crudite platter or fruit platter so there's something there you can eat!
Or … we could look at this another way.
Instead of approaching this from the food angle and working on how to say 'no' to the food; perhaps you could look at getting more comfortable with being at these social gatherings.
There are many techniques that can help including hypnosis, meditation, and breathing – to name a few. I think that this is a perfect example of how weight loss isn't about the food; it's about something else that is triggering food.
I hope that gives you food for thought.
Thanks for writing, and please let us know how you move through this uncomfortable challenge. We're rootin' for you! ~ Janice
For those of us who can relate to this problem. Write down 5 things that YOU CAN do that will change the way you approach and experience social gatherings.
And what advice do you have for "N.?"
Hungry for more laughter? Then join Our Lady of Weight Loss's Kick in the Tush Club/FB!
Spread the word–NOT the icing,
Janice Taylor
wise * fun * utterly useful
———————————————————————————-
For the best life, wellness and weight loss wisdom, visit Janice:
Our Lady of Weight Loss
sign up for the Kick in the Tush Club e-letter
join and chat: Kick in the Tush Club/Facebook