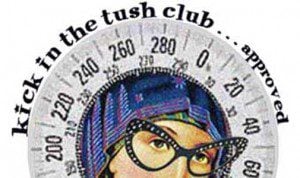 Tushkateers! How's your Thanksgiving Mental Health hanging? Things have been pretty calm around here. No fuss about Thanksgiving; no big concerns about the holidaze glaze until this past week. I spoke with several coaching clients, all of whom were beginning to wonder how they are going to make it through, unscathed!
Interestingly enough, people aren't as much concerned about the bounty of food as they are about their well-being. They want to know how to stay calm, centered, feel peaceful, happy and even grateful on the biggest food day of the year. They understand that the food is just food until their emotions get triggered.
So, I sat down with Our Lady of Weight Loss, the patron saint of permanent fat removal, and together we came up with:
10 Tips to a Calm, Peaceful and Happy Thanksgiving.
-or- 10 Tips: How to Eliminate Emotional Eating On the Most Charged Food Day of the Year
Avoid Mad Dash Syndrome – Plan and do as much as is comfortably possible ahead of time, avoiding the mad dash! Create a time line and stick to it.
Keep It Simple and Graceful – Remember that less is more. Five types of sweet potatoes is not necessarily better than one incredible mash!
Set the Table Early – Set the table either the day before Thanksgiving or early that morning. Set it with the intention to create an organized, calm and beautiful Thanksgiving.
Declutter – Clutter takes up space and blocks energy. Clutter never feels good. As best you can, clear your space for the people, the food and good energy.
Pretend to Be a Cat – Cats observe. You be the observer. Let the rest of life spin around you, while you stay centered. Let others spin, chase their tails, and/or run in circles; while you stay centered.
Breathe / Meditate – Periodically, throughout the day, take in 5 deep belly breaths; exhale through your mouth. Ahhhhh …. You can't help but to feel more centered and calm.
Add Wonder to the Table.– Nature is a grounding force that connects us to the Source, to God, to ourselves. When we encounter a beautiful flower, we can't help but to be in awe. Wonder arises. Place a beautiful vase of flowers on the table, perhaps a plant or two and/or a pumpkin at your front door. Let the wonderment flow.
Aromatherapy – Aromatherapy works by stimulating smell receptors in the nose, which, in turn, send messages through the nervous system to the limbic system — the part of the brain that controls emotions.

It is believe that the following essential oils can create a pleasant serenity: Lavender, melissa, myrrh, bergamot, cardamom, chamomile, cypress, frankincense, rose, pine, vanilla, marjoram, neroli, nutmeg, patchouli, and orange/lime.

Place a few drop of your favorite essential oil on a cotton ball, put in purse or pants. Take in deep aroma breathes throughout the day!

Play Soft and Slow Music – Music causes the body to release endorphins. Slow music slows the breath and the heartbeat. Music calms!
Feel Comfortable in Your Own Skin… Is

(your name here)

happy with

(your name here)

? The most important element to a peaceful, calm, happy day is how you feel about yourself. Love and accept yourself. Let your calm ripple out, be happy, and enjoy!
Remember that the goal of the day is to be happy with yourself, feel comfortable in your own skin, to stay calm, present, to radiate love and peace and to be thankful for all that you do have, indeed! Follow our 10 tips and you can't help but to avoid emotional eating!
If you have any tips to share, any helpful thoughts on Thanksgiving, please feel free to joinOur Lady of Weight Loss's Club: Kick in the Tush Club/FB
Spread the word–NOT the icing!
Janice Taylor
wise * fun * utterly useful
———————————————————————————-
For the best life, wellness and weight loss wisdom, visit Janice:
Our Lady of Weight Loss
sign up for the Kick in the Tush Club e-letter
join and chat: Kick in the Tush Club/Facebook