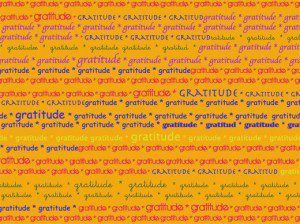 Happy Thanksgiving, Happy Chanukah, Happy Thanksgiviukkah one and all!!! As Thanksgiving is about giving thanks and expressing gratitude, I thought I'd reprint a crowd favorite on the benefits of gratitude!
Read, ingest, and think gratitude!
THE HAPPY, HEALTHY and SLIMMING BENEFITS OF GRATITUDE
It is our habit, our way of being, to quickly get accustomed to pleasant circumstances and the positive feelings that accompany those happy happenings. Us human beings–you and me, yup all of us–are wired to seek newness, freshness, novelty.
Think about it. Are we not always on the hunt for change, something better? Do we not get excited about and celebrate new developments in our life, from mental change states (like drippy to energized) to buying a new, shiny car or new home or how about a new outfit that's slimmin' and trimmin'?
Truth be told, the enjoyment, happiness, and that great surge or energy that occurs when we buy new clothes, jewelry, land a new job, or get a huge pay raise that allows us to upgrade to a new home; when we move from suffering from an awful cold (or other illness of greater magnitude) to health; even when we lose weight (oh, yes, think about it; if you stayed thrilled, you would not "find it again" after "losing it"); wears off.
Are you with me? Feeling the existential "blah" that follows the "yay?" Seeking the next "high?"
If you want to be permanently happy (and I don't mean happy idiot), then you need have to, MUST practice GRATITUDE.
I so rarely tell people what to do! True that I suggest, I lead them/coach them to a place of action. But in this case, I'm stepping over that line and telling you that IF you want to be HAPPY, then you MUST Practice GRATITUDE.
The Benefits of Practicing Gratitude:
1. APPRECIATE BEING ALIVE. When we practice gratitude, we are less likely to take Being Alive for granted. Right now, I do hope you are having an epiphany, an a-HA moment. Most of the time, most of us are taking Being Alive for granted.
2. NOT DEPRESSED. Being not depressed is not the same as being happy, nevertheless, practicing gratitude reduces the frequency and duration of depression. People who practice gratitude are less likely to experience envy, covetousness, and bitterness. People who practice gratitude are less likely to focus on what they do not have!
3. OPEN. When we are feeling grateful, we are open to feeling more joyful, engaged, and carefree, creating a space for mysterious and synchronistic happenings.
4. RESILIENT. People who practice gratitude bounce back more quickly from the inevitable losses and suffering that comes with being human. Those who practice gratitude have created the habit of focusing on what is working in life, as opposed to what is not working; focusing on what they have, as opposed to what they do not have; focusing on what they can do, not on what they cannot do.
5. OVERFLOWING with SELF-WORTH. Low self-esteem is nothing more than a cognitive falsification of what is. When we practice gratitude, our perspective is far less fuzzy, hazy, imprecise, inaccurate—just plain wrong! Chew on that again, please. Low self-esteem is nothing more than—if you will—misshapen thinking. There's nothing "wrong" with you, me / us! You are free to feel good about yourself.
6. COUNT THE BLESSINGS. When we practice gratitude, we are creating the best habit of all: Habits of Happiness. We acknowledge and are thankful for all that which defines us and makes up our reality.
For more happiness, holiday fun and kooky genius, join Our Lady of Weight Loss's Club: Facebook/A Kick in the Tush Club!
Spread the word–NOT the icing,
Janice Taylor
wise * fun * utterly useful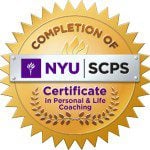 ———————————————————————————-
For the best life, wellness and weight loss wisdom, visit Janice:
Our Lady of Weight Loss
sign up for the Kick in the Tush Club e-letter
join and chat: Kick in the Tush Club/Facebook