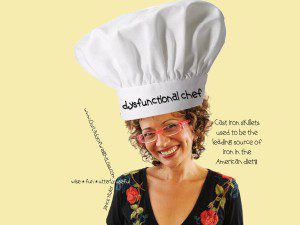 Tushkateers, Devotees of Our Lady of Weight Loss, and those who found their way on this page via divine intervention (whether they know it or not), dig it: Thanksgiving foods do not have to be dripping in sugar and fat. True, a concept that doesn't seem to have found its way to many a holiday table, but nevertheless, the truth! You do not have to gain weight on the biggest food day of the year!
Here, from the Our Lady of Weight Loss kitchens, three (count 'em…1 – 2 – 3) sweet potato recipes that are delicious, satisfying, overflowing with vitamins and minerals and perfect for your Thanksgiving side dishes!
Baked Sweet Potato Fries
Ingredients:
2 medium sweet potatoes, scrubbed and dried
1 tablespoon extra-virgin olive oil
1/2 teaspoon salt, freshly ground
1/2 teaspoon pepper, freshly ground
1/2 teaspoon Hungarian paprika
Directions:
Preheat oven to 425° F.
Slice each sweet potato into really thin slices, then toss with oil, salt and Toss with oil, salt, and paprika. Spread in a single layer on a baking sheet and bake until lightly browned on the bottom, depending on how thin they are anywhere from 8 minutes to 15 (more or less; don't hold me to it!). Turn slices over and brown the other side. About 8 to 15 minutes.
Serve hot.
Scalloped Sweet Potatoes and Apples
Ingredients:
4 medium sweet potatoes, precooked and sliced
3 medium-sized apples (tart is best), peeled and sliced
1/3 cup butter
1/3 cup sugar, organic
Dash of salt
1/4 cup hot water, but not boiling
Directions:
Preheat oven to 375 degrees.
Place a layer of potatoes, then apples on top and then sweet potatoes again and then apples in a shallow casserole dish! Get the idea? Alternating levels!!
Dot the butter here and there.
Sprinkle each layer with a bit of the sugar.
Pour water in pan.
Cover and bake for about 25 minutes.
Remove cover and back for another 25 minutes, until liquid has evaporated and the top of this power-dish is golden brown.
Whipped Sweet Potatoes & Parsnips
Ingredients:
1 lb. parsnips
1 lb. sweet potatoes
1/2 cup melted butter
salt, freshly ground
1/4 tsp. ground allspice
Directions:
Peel and slice parsnips and potatoes.
Cook vegetables in a small amount of boiling salted water until tender, about 15 minutes; drain.
For more extraordinary weight loss wisdom, recipes and love, join Our Lady of Weight Loss's club: Kick in the Tush Club/FB.