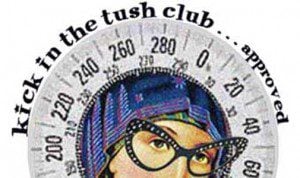 No one is as deaf as the man who will not listen. ~ Jewish Proverb
Imagine Dear Tushkateers, Devotees of Our Lady of Weight Loss and anyone else who has landed on these pages, what it would be like if we really listened to each other?
You know, instead of half-listening; instead of 'sort of' paying attention while multi-tasking, or just plain zoning out, or – most commonly – anxiously awaiting for the 'listenee' (a.k.a. the speaker) to pause for a millisecond, so that you can jump right in with your brilliance.
Well, for one thing, the person to whom you are listening would enjoy the extraordinary experience of being "heard, "seen" and "witnessed."  And YOU, the person who is actively listening, would be exercising your observational powers and, in so doing, you might just perceive more than you normally do.
You might understand the 'listenee' on a whole new level. You may have even "heard" the golden nuggets of what was left unsaid!
To help you to listen, Our Lady of Weight Loss thought it might be helpful  for me to share with you…
… The 7 Don'ts of ACTIVE LISTENING!!!
DO NOT allow your brain to race ahead of your lips! We speak at about 100 to 150 words per minute, but we think at 250 to 500. Just listen!
DO NOT anticipate what will be said. Just listen!
DO NOT be distracted by the people or things around you. Keep your eyes focused on the "listenee." Just listen!
DO NOT interrupt. Allow her/him to finish their thought. Just listen!
DO NOT plan your responses as the speaker is speaking. Just listen!
DO NOT give advice unless specifically asked for it. Just listen!
DO NOT share every single story from your own life that might relate to what the "listenee" is saying. Just listen!
What does this have to do with Permanent Fat Removal a.k.a. Weight Loss?
Active Listening is a part of Our Lady of Weight Loss's healthy living plan.  She and I work in a whole life model, which means that weight loss does not live in its little fat-free container … alone.
One area of life impacts on the other.  Certainly, your ability to build strong relationships with the people in your life can help to support other areas of life. Think about that!!!
Simple Weight Loss Wisdom from Our Lady of Weight Loss!!!
For more active listening, and the best wellness and weight loss wisdom join: Our Lady of Weight Loss's Club:  Kick in the Tush Club/FB.
Spread the word–NOT the icing!
Janice Taylor
wise * fun * utterly useful
———————————————————————————-
For the best life, wellness and weight loss wisdom, visit Janice:
Our Lady of Weight Loss
sign up for the Kick in the Tush Club e-letter
join and chat: Kick in the Tush Club/Facebook