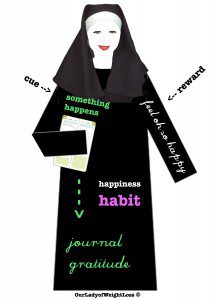 The Journal of the American Medical Association tells us that writing about stressful situations, stressful life events, even the stressors of daily living helps to reduce symptoms of asthma and rheumatoid arthritis.
This is just one study in a growing body of evidence that shows the mental and emotional health are linked to physical well-being.
Scientists cannot pinpoint exactly how this works, but they believe that regular journaling strengthens immune cells, called T-lymphocytes. Certainly, writing about the stressful events of our lives helps us to come to terms with them, which reduces the impact of the stressors on our health and our weight!
Expressing oneself through writing can lead to better health, as well as help people cope with stress. And we all know how stress impacts upon our health, don't we?
1. Keep an Old-fashioned Journal??. Get your ole school notebook out and start with Dear Diary!
2. Set up a 'Dummy' E-mail Account on one of the free servers. Use it as a place to dump your stress. Email yourself a note every day. Consider it your 'stress relief' email address, used only for this purpose. It is a solely a dumping ground.
3. Write Short Notes to Yourself on Index Cards, thus limiting the amount you can say and deposit them in an old-school cigar box (or container of your choice). Again, only for this purpose.
4. Cut Out a Picture or two to go with your words from a magazine. Using your glue stick, attach images to paper and collage your stress away.
5. Text Message Yourself every time you are stressed to your last nerve. Write it. Send it. Read it. Delete it. Let it go!
What other ways can you express yourself on paper?
Don't just improve; evolve!
For more creative ways to weigh less, join Our Lady of Weight Loss's Club: Kick in the Tush Club/FB
Spread the word–NOT the icing!
Janice Taylor
wise * fun * utterly useful
———————————————————————————-
For the best life, wellness and weight loss wisdom, visit Janice:
Our Lady of Weight Loss
sign up for the Kick in the Tush Club e-letter
join and chat: Kick in the Tush Club/Facebook