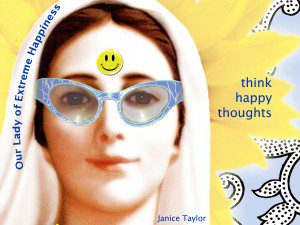 This week's Get Jiggy Weight Loss JigSaw Puzzle was inspired by "Extreme Happiness." Our Lady of Weight Loss defines Extreme Happiness as a supremely happy state of mind that brings forth feelings of elation, euphoria, joy, and bliss.
There's nothing specific that you can do to create Extreme Happiness. It seemingly comes out of nowhere. When it does "hit" or "appear," simply revel in it. Be grateful for it.
As you click through this week's Weight Loss JigSaw Puzzle, "Extreme Happiness," think happy thoughts! And maybe, maybe, out of nowhere Extreme Happiness will be yours!
Share the happiness! Send an "Extreme Happiness" e-card to a friend!
For more joyous and jubilant happenings, join Our Lady of Weight Loss's Club: Kick in the Tush Club/FB
Deliciously yours,
Janice Taylor
wise * fun * utterly useful
———————————————————————————-
For the best life, wellness and weight loss wisdom, visit Janice:
Our Lady of Weight Loss
sign up for the Kick in the Tush Club e-letter
join and chat: Kick in the Tush Club/Facebook