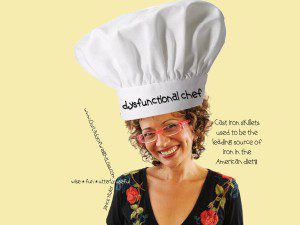 This week's Eat This: Lose Weight recipe from your favorite Dysfunctional Chef (that's me) is inspired by fall colors, in particular and especially, Autumn Orange.  Orange, an optimistic, uplifting and rejuvenating color, has the power to bring a positive outlook on life.
While mixing, folding and blending the ingredients, think orange thoughts–happy thoughts, adventurous thoughts!
Look on the Bright Side: Sweet Potato Appetizer

Ingredients:
3 medium sweet potatoes, cooked*
2 T butter
1/2 tsp cinnamon
1/2 tsp nutmeg
1/4 tsp salt
1/4 cup brown sugar
1/4 cup raisins
1/2 can crushed pineapple (in its own juice), drained
3 medium oranges, cut into halves (scooped clean*)
Instructions: 
Preheat oven to 350 degrees.
Peel and mash (cooked* – I like to bake them first for about 45 to 50 minutes; a doubled baked potato) sweet potatoes with butter, cinnamon, nutmeg, salt and brown sugar.  Gently stir in raisins and crushed pineapple.
With smile on your face (thus, exercising 26 muscles, more or less), scoop hot sweet potato mixture into orange halves.
Place on sprayed or greased cookie tray.
Bake for 15 minutes.  Serve.
*How to scoop clean:  Either scoop the slices out or press out with a juicer, old school style.  Using a little muscle!  Yet, another form of exercise.
Hungry for more colorful recipes?  Join Our Lady of Weight Loss's Club:  Kick in the Tush Club/FB.
Deliciously yours,
Janice Taylor
wise * fun * utterly useful
———————————————————————————-
For the best life, wellness and weight loss wisdom, visit Janice:
Our Lady of Weight Loss
sign up for the Kick in the Tush Club e-letter
join and chat: Kick in the Tush Club/Facebook