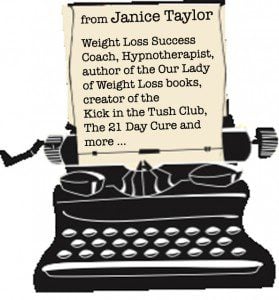 Because "You are What You Say (aloud and inside your mind)," and because positive self talk has the power to increase self-confidence, reduce stress and basically make your life infinitely more enjoyable, sending ripples of happiness throughout your world, I invite you to ….
Get Hip to Your Self Talk. You may or may not be aware of your self-talk. Is it primarily positive, or negative? Are you sure? Here follow a few strategies that can help you become more aware of your inner dialogue. AWARENESS is the first step.
1. Write It. At night and in the morning, jot dot a general summary of your thoughts. Today is; today will be; today was … Don't judge it; just let it rip and then read it.
2. Stop It. It's as simple as that! When you hear yourself saying something negative … STOP yourself in your tracks by saying "Stop!" It's more powerful to say it aloud. (I said "simple," not "easy.")
3. Snap It. I've heard that some people wear a rubber band around their wrist, and when they hear themselves saying something negative, they snap it! I don't know how I feel about it, but if you are really deep into negativity, you might want to snap it!
4. Neutralize It. When you catch yourself saying something negative, turn it around. Instead of "I can't do it," say "I don't now how." "Instead of "I'm in pain," say, "I am experiencing discomfort." Instead of today was an awful day, say, "today was trying and the best part of it was _____."
For the best in wellness and weight loss wisdom, join Our Lady of Weight Loss's Club: Facebook/A Kick in the Tush Club!
Spread the word–NOT the icing,
Janice Taylor
Life & Wellness Coach, Weight Loss Expert
Wise * Fun * Utterly Useful
Dictated by Our Lady of Weight Loss, but not read: excuse typos!———————————————————————————-
For the best life, wellness and weight loss wisdom, visit Janice:
Our Lady of Weight Loss
sign up for the Kick in the Tush Club e-letter
join and chat: Kick in the Tush Club/Facebook