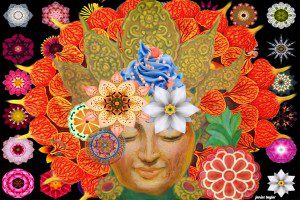 What is your style? Inner-style? Spiritual style?
What is style? Style is a combination of self-awareness, self-knowledge, personality and fashion. True style, inner-style, spiritual-style requires that one feels comfortable in their own skin, at home in their body.
Your outer-style reflects your ever-evolving and growing inner-style. Style articulates your mood, your spirit, wit, attitude, feelings, thoughts; style expresses your creativity, ingenuity and imagination.
What is your style? Does your style reflect your character, your true nature?
Here, 10 Quotes on Style to help you uncover and fully express your authentic self.
Style is knowing who you are, what you want to say, and not giving a damn. ~ Orson Welles
The most beautiful makeup for a woman is passion. But cosmetics are easier to buy. ~ Yves Saint Laurent
One should either be a work of art or wear a work of art. ~ Oscar Wilde
Style is a deeply personal expression of who you are, and every time you dress, you are asserting a part of yourself. ~ Nina Garcia
Fashion is not something that exists in dresses only. Fashion is in the sky, in the street, fashion has to do with ideas, the way we live, what is happening. ~ Coco Chanel
Women always try to tame themselves as they get older, but the ones who look best are often a bit wilder. ~ Miuccia Prada
There is only one really good life and that's the life you know you want and you make it yourself. ~ Diana Vreeland
Elegance is a glowing inner peace. Grace is an ability to give as well as to receive and be thankful. Mystery is a hidden laugh always ready to surface! Glamour only radiates if there is a sublime courage & bravery within: glamour is like the moon; it only shines because the sun is there. ~ C. JoyBell C.
The more you leave out, the more you highlight what you leave in. ~ Henry Green
You can't make a fan of everyone. Stay true to your story, characters, music, art or whatever it is you do and f*(* everyone else who doesn't like it. Life isn't perfect. ~ Ann Marie Frohoff
For more inner and outer style, for more spiritual style, visit Our Lady of Weight Loss's: Facebook/Kick in the Tush Club Chapter!
Spread the word … NOT the icing,
Janice Taylor
wise * fun * utterly useful
Dictated but not read by OLWL. Excuse all typos!
———————————————————————————-
For the best life, wellness and weight loss wisdom, visit Janice:
Our Lady of Weight Loss
sign up for the Kick in the Tush Club e-letter
join and chat: Kick in the Tush Club/Facebook