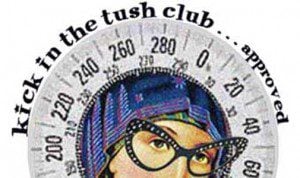 "I believe in roses. And I believe in putting roses into a vase and sitting the vase on the table. I believe in getting lost and being found, I believe in going barefoot, and in laughter! My religion is to laugh at myself, whenever I can! I believe in the sunlight and in grey skies with big, beautiful clouds!" ~ C. JoyBell C.
Greetings My Dear Tushkateers, How are y'all? I trust well. And I hope that you are stopping now and again to smell the roses! I'm in Tucson (as you know, returning to NYC in the beginning of June), and I did stop to smell the rose! The one that is in bloom in front of my casita. Just one, with the promise of another in a day or two. Oh…it was heavenly! And I thought about how relaxed I am when I am here, minus the usual noises–both inner and outer noise–without newspapers, without a television. Minus the GIGO!
What is GIGO??? Garbage in, Garbage out!
It's interesting, isn't it? How we make such a valiant effort to eat healthfully and be positive, yet we allow our minds to be bombarded with an unending stream of negative thoughts and violent images. Our mental junk drawers are jam packed with trashy talk shows, negative news stories, violent movies and nasty gossip.
Want to steer clear of the negativity? Here, a few quick do's and dont's from OLWL!
Do not watch the news, violent movies or empty calorie television shows, especially before bedtime.
Do not hold on to old grudges and hurts. Let it go. All is forgiven. Move on!
Do not focus on your problems. Shift your energy to helping someone else.
Do not worry. There's no point to it, and worrying is a real buzz kill.
Do read inspiration and motivational books, magazines. Keep your mind awash in positivity.
Do spend some time solving crossword puzzles or number games. They exercise your brain, enabling you to learn more easily. (OLWL provides one every Monday!)
Do sit quietly, all by yourself. Ahhhhhhhh…
Do read the positive QUOTES (below), and be sure to scroll down and click on the links to Our Lady of Weight Loss's blog posts. 🙂
What might you do (or not do) today to accentuate the positive, eliminate the GIGO?
For more discussion on how to clean out your mental junk drawer, please join with your fellow Tushkateer. Visit Our Lady of Weight Loss's KICK in the TUSH CLUB/Facebook Chapter!
Spread the word … NOT the icing,
Janice Taylor
wise * fun * utterly useful
Dictated but not read by OLWL. Excuse all typos!
———————————————————————————-
For the best life, wellness and weight loss wisdom, visit Janice:
Our Lady of Weight Loss
sign up for the Kick in the Tush Club e-letter
join and chat: Kick in the Tush Club/Facebook