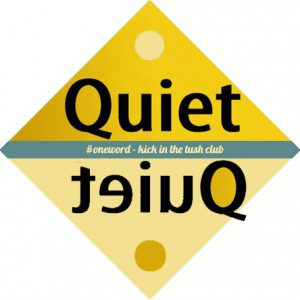 One of my favorite stories that illustrates the importance of quiet is about Michelangelo, the great artist. It is said that one day back in the day, a prince visited Michelangelo in his studio and found him staring at an 18-foot block of marble.
Clearly, the rumors were true. Word had traveled throughout the land that Michelangelo visited his studio for four solid months, stared at the block of marble for hours and then would go home for dinner.
"What are you doing," asked the prince.
"Sto lavorando." (I'm working), whispered Michelangelo.
Three years later that same block of marble was the statue of David.
Michelangelo had stared at that block of marble for four months. He was imagining, conceiving, envisioning–divining. Michelangelo's concept of sculpting: meant "to take away;" not "to add to," as the sculpture already existed inside the block of marble.
It is the sculptor's job to remove, to take away the excess, to strip away the superfluous that surrounds the marble.
Let quiet be your #oneword. Sit, be; allow your excess to fall away.
7 Quiet Quotes that Quiet
All men's miseries derive from not being able to sit in a quiet room alone. ~ Blaise Pascal
Courage doesn't always roar. Sometimes courage is the quiet voice at the end of the day saying, "I will try again tomorrow." ~ Mary Anne Radmacher
Usually, when the distractions of daily life deplete our energy, the first thing we eliminate is the thing we need the most: quiet, reflective time. Time to dream, time to contemplate what's working and what's not, so that we can make changes for the better. ~ Sarah Breathnach
Others inspire us, information feeds us, practice improves our performance, but we need quiet time to figure things out, to emerge with new discoveries, to unearth original answers. ~ Ester Buchholz
It is not fancy hair, gold jewelry, or fine clothes that should make you beautiful. No, your beauty should come from within you – the beauty of a gentle and quiet spirit. This beauty will never disappear, and it is worth very much to God. ~ Peter 3:3-4
A happy life must be to a great extent a quiet life, for it is only in an atmosphere of quiet that true joy dare live. ~ Bertrand Russell
In quiet moments when you think about it, you recognize what is critically important in life and what isn't. Be wise and don't let good things crowd out those that are essential. ~ Elder Richard G. Scott
For more happy, joyful and quiet discussions, join Facebook/Kick in the Tush Club.
Spread the word–NOT the icing!
Janice
———————————————————————————-
For the best life, wellness and weight loss wisdom, visit Janice:
Our Lady of Weight Loss
sign up for the Kick in the Tush Club e-letter
join and chat: Kick in the Tush Club/Facebook!