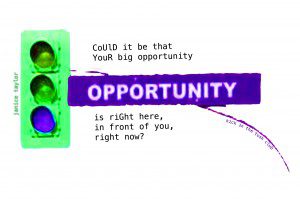 Today is Thursday, a.k.a. #oneWord Thursday, which means that we have an "opportunity" to choose one word to play with today, to help us create vision of what we really, really want!
As I mentioned last week, I have created a stack of cards with one word printed on each card. I've taken the stack of cards, put them into the proverbial hat and pulled this morning the word, "opportunity."
op.por.tu.ni.ty
1. an appropriate or favorable time or occasion: Their meeting afforded an opportunity to exchange views.
2. a situation or condition favorable for attainment of a goal.
3. a good position, chance, or prospect, as for advancement or success.
Utilizing today's #oneword, let's keep an eye, an ear and our hearts open as we take notice and advantage of the many opportunities that present themselves to us today. Opportunities for success, love, happiness…opportunities galore!
To help fuel our ability to spot an opportunity, here:
Seven Opportunity Quotes from the Our Lady of Weight Loss's Vault of Words and Quotations.
"In the middle of difficulty lies opportunity." ~ Albert Einstein
"I held a moment in my hand, brilliant as a star, fragile as a flower, a tiny sliver of one hour. I dripped it carelessly, Ah! I didn't know, I held opportunity." ~ Hazel Lee
"Wherever there is a human being, there is an opportunity for a kindness." ~ Seneca
"A pessimist sees the difficulty in every opportunity; an optimist sees the opportunity in every difficulty." ~ Winston Churchill
"To recognize opportunity is the difference between success and failure". ~ Anonymous
"Your big opportunity may be right where you are now." ~ Napoleon Hill
"Never lose an opportunity of seeing anything beautiful, for beauty is God's handwriting." ~ Ralph Waldo Emerson
For more wellness and weight loss wisdom, join with OLWL, Janice and a gaggle of Tushkateers at Kick in the Tush Club/Facebook.
Spread the word–NOT the icing!
Janice
Check out my workshop @ Rowe Camp and THEN … register
———————————————————————————-
For the best life, wellness and weight loss wisdom, visit Janice:
Our Lady of Weight Loss
sign up for the Kick in the Tush Club e-letter
join and chat: Kick in the Tush Club/Facebook!