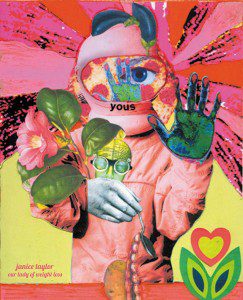 The following E-emergency email came swirling into my inbox this morning, from a client of mine – who has, (drum roll, please) – permanently removed over 20 pounds in the past 12 weeks! (Results typical:)
I thought her plea for help worth sharing, because I know that we all have 'alien' voices in our heads that 'make' us eat the leftover stuffing, pumpkin, apple and pecan pies; whatever else might be lurking in our fridge and pantry post holiday.
I suspect many of us are experiencing alien voices that twist our arms to eat, that 'make' us go hog wild.
Dear Janice – An alien has taken over my mind, my body and my spirit. The alien feeds me lies, lies, lies in the form of pie, pie, pie! The alien has made it clear that there's food in the fridge. Apparently, the leftovers from the holiday are waiting for me to come and devour them. They are calling my name! And, because it is a holiday, the alien is telling me that it's perfectly okay for me to go hog wild. You know, the once a year schtick. I'm going to lose my mind. You gotta help me! Please!! How can I quiet the alien voice? – Mary Beth in Post-Thanksgiving Alien Hell
Dear Mary Beth in Post-Thanksgiving Alien Hell:
Here are 15 simple steps to follow that will move you from Post-Thanksgiving Alien Hell to Nirvana.
1. Get yourself some heavy duty ear plugs.
2. Plug up your ears.
3. Hum loud.
4. Get yourself a big plastic bag.
5. Hum louder.
6. Open the fridge.
7. Toss the leftovers in said plastic bag.
8. Open the pantry.
9. Toss the leftovers in said plastic bag.
10. Do a clean sweep of other "food hiding places."
11. Toss all red-light, orange-light and maybe even yellow-light foods into said plastic bag (drastic times call for drastic measures).
12. Tie up plastic bag as securely as humanly possible.
13. Walk to outside garbage cans (or garbage shoots a.k.a. AVACS in apartment buildings) and toss!
14. As you walk back inside, smile victoriously, pat yourself on the pat and say, "good, good, good!"
15. Take out a pen/paper and write a note to the Alien (in the third-person).
Dear Alien – Mary Beth promised herself that she would NOT go hog wild before, during and after Thanksgiving. A promise to oneself is sacred. If she goes back on her promise to herself, she will feel a kind of loss. Here's something kind of interesting about the brain!
When we set a goal or promise ourselves something, our brain sees it, experiences it, believes it to already be so. So, when we go back on our promise, it feels like a betrayal. When we betray ourselves, a tsunami of defeat comes rolling in and often does enough damage to send us into a ditch, so to speak, ditching our goals and dreams. A terrible loss, wouldn't you say?
I know it's tough for you, Alien. Mary Beth has followed your voice, and obeyed your commands for a very long time. We respect your power. And, we'd like to offer you another job; something for you to be in charge of.
You can lead the cheering squad. You can be the Positarian-in-Charge. Whenever Mary Beth accomplishes anything from decluttering her desk to saying "no, thank you" to a platter of sugar cookies, you can lead a "Yee-haw" from the squad. Or a "woo-hoo" or clap, clap, clap. Whatever suits you. After all, you're in charge of cheering!
Please accept our offer. Be a part of the "Yee-haw Team." – Janice, on behalf of Mary Beth and all whose alien voices have led them astray.
Spread the word, NOT the icing!
Janice
Life & Wellness Coach, Weight Loss Expert
wise * fun * utterly useful
——————————————————————————————————————————————
For the best life, wellness and weight loss wisdom, visit Janice:
Our Lady of Weight Loss
sign up for the Kick in the Tush Club e-letter
join and chat: Facebook/ a KICK in the TUSH CLUB