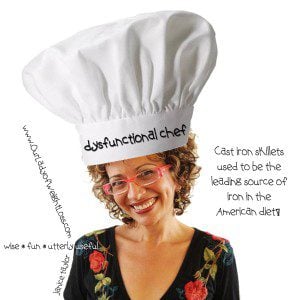 I found this Hummus, Avocado, Roasted Tomato recipe on Eat Live Run last week. It hit all my happy spots. Easy to make. Familiar ingredients. No specialty shopping required. Relatively low in calories (unless you go hog wild with the hummus). Healthy. And so, I made it! Three times! It was super-delish, a 5 yummer if ever there was one.
With great enthusiasm, I shared the recipe with my daughter. When I got to the roasted tomato part of the recipe, she asked, "How did you know when the tomatoes were done?"
I said, "When the smoke detector alarm went off." We laughed ourselves silly.
I wasn't kidding. It was quite the scene. Straight out of Curb Your Enthusiasm, I couldn't get the alarm to stop buzzing! I was waving a towel in front of it, opened the windows and came close to hitting it with a bat! And that's why I am the Dysfunctional Chef.
Enjoy the clip from Curb Your Enthusiasm. And the recipe, too!
Ingredients:
bread
1/2 cup hummus [store bought or homemade]
1 avocado – halved, pitted and peeled
4 plum tomatoes, halved lengthwise, cores and seeds removed
2 tablespoons extra virgin olive oil
2 teaspoons balsamic vinegar
salt + pepper to taste
Directions:
Preheat the oven to 450 degrees F.
Arrange the tomatoes on your baking sheet, cut sides up, in a single layer. Drizzle with olive oil and balsamic vinegar. Season with salt and pepper.
Roast until the smoke detector alarm goes off, or until the tomatoes are beginning to caramelize, whichever happens first! (Somewhere in the 25 minute range)
While the tomatoes roast, toast your bread. Using a cookie cutter or circular object, cut out 1-2 circles per toast, depending on how big the piece of bread is.
Spread ½-1 tablespoon of hummus on each circular toast.
In a bowl or plate, mash avocado with a fork, leaving large chunks.
Layer the mashed avocado over hummus, season with salt + pepper, and then top with a roasted [or fresh] tomato.
Serve immediately.
Visit Eat Live Run for the full skinny and gorgeous photos of this dish!
Spread the word … not the icing!
Janice
Life & Wellness Coach, Author, Weight Loss Artist
wise * fun * utterly useful
——————————————————————————————————————————————
For the best life, wellness and weight loss wisdom, visit Janice:
Our Lady of Weight Loss
sign up for the Kick in the Tush Club e-letter
join and chat: Facebook/ a KICK in the TUSH CLUB
Become a Tushkateer! A Tushkateer is a person who receives Our Lady of Weight Loss's newsletter, called the KICK in the TUSH CLUB!!! Sign up and receive her weekly e-newsletter with all the news that 'fit' to print, and you are automatically a Tushkateer! How cool is that?