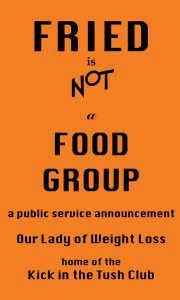 Does "greasy tasting" equate to "more grease?"
I thought so, but was I wrong?!
***
"If you look at a French fry under a microscope, you'll see that while it's being fried, the water inside the food is rapidly expanding and converting to steam.
Much of this water escapes, leaving small, steam-filled cavities in the food.
As soon as the food is removed from the oil, it rapidly drops in temperature. The steam inside condenses back into water, leaving large vacuum-filled holes in its structure. What comes in to fill those holes?
The only thing that can: the oil on the surface of the food.
In fact, the amount of oil that a piece of food absorbs is directly proportional to the temperature it is cooked at.
 So the sensation of greasiness you get when eating poorly fried food?  It's the combination of oil and the moisture left on or near the surface of the food that causes that.
Well-fried food should be nearly water-free on its surface, giving it a cleaner, less greasy mouth feel." (Source:  Serious Eats . com)
Spread the word … not the icing!
Janice

Life & Wellness Coach, Author

Self-Help / Weight Loss Artist
wise * fun * utterly useful
——————————————————————————————————————————————
For the best life, wellness and weight loss wisdom, visit Janice:

Our Lady of Weight Loss
sign up for the 
Kick in the Tush Club
e-letter
join and chat:
Facebook/ a KICK in the TUSH CLUB
Become a Tushkateer!
A Tushkateer is a person who receives Our Lady of Weight Loss's newsletter, called the KICK in the TUSH CLUB!!!  Sign up and receive her weekly e-newsletter with all the news that 'fit' to print, and you are automatically a Tushkateer!  How cool is that?