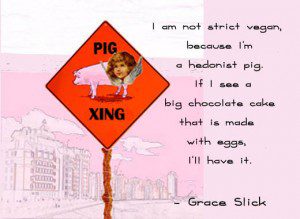 This week's Get Jiggy Weight Loss JigSaw Puzzle, entitled PIG CROSSING, is inspired by the 4th of July, Independence Day!
Are you ready for the marching bands, parades, fireworks, and the BBQs? Last year more than 80 million folk participated in BBQs! The favorite foods served included hamburgers, hotdogs, chicken, ribs, potato salad, chips and watermelon!
Let's hear it for the watermelon!!! And speaking of fruit, here's a "Grill ME Pineapple and Peaches" link from the Our Lady of Weight Loss kitchens!
Remember … clicking through your weekly JigSaw Weight Loss puzzle burns calories and keeps both your hands and mind occupied.
Spread the Word … NOT the icing!
Janice

Life & Wellness Coach
Self-Help / Weight Loss Artist
wise * fun * utterly useful
————————————————————————————————————————————————
FEED YOUR SOUL: Change Your WEIGHT!!! workshop – extraordinary opportunity!
September 16 – 19, 212
ONCE IN A LIFETIME OPPORTUNITY at HOLLYHOCK– SIGN UP NOW!!!!
————————————————————————————————————————————————
For the best life, wellness and weight loss wisdom, visit Janice:
Our Lady of Weight Loss
join the Kick in the Tush Club
Become a Tushkateer!
Tushkateer* A Tushkateer is a person who receives Our Lady of Weight Loss's newsletter, called the KICK in the TUSH CLUB!!! Sign up and receive her weekly e-newsletter with all the news that 'fit' to print, and you are automatically a Tushkateer! How cool is that?
Follow Janice on Twitter @OurLady
Facebook.com/OurLadyofWeightLoss