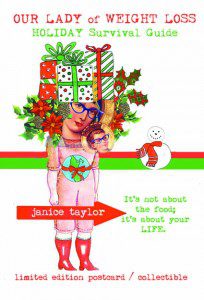 It's KICK in the TUSH TUESDAY!!! Every Tuesday, Janice Taylor, Life and Wellness Coach, Weight Loss Artist, author of the Our Lady of Weight Loss books, and creator of the Kick in the Tush Club, shares a portion of her special e-zine, here!
Hellooooooooo and Happy Day Tushkateers!!!
How are you on this brilliant December 'morn? All done shopping? Decorating? Ready to rock the rumba? I am happy to report that all gifts have been ordered and delivered, I think, I hope, I'm praying to the right person!!! (It took 3 phone calls to Dharma Crafts, after I received gifts here that were supposed to go elsewhere! Oh well… so it goes; a minor glitch and they cheerfully took care of it.) That said, there's more to do – always – but the bulk of my 'holiday to do list' is fast evaporating. AND … the best part of this particular to do list is that it's dated. Once the holidays come and go, oh well – whatever is not done doesn't get done! Three cheers to not getting it all done!!!
In addition to the usual hoopla, as you know, Mom is in rehab (after falling and fracturing her elbow et cetera), and I've got to report that she is one remarkable old dame! Peter and I brought her a cell phone and loaded it with our speed dial #s, and as of yesterday, she was beginning to get on my nerves again!!! I'm so happy! I said to a friend, "Praise be. My mother called me three times in the past hour. I'm starting to feel annoyed. Things are getting back to normal!!!" So three cheers annoying mothers. Hip hip hooray!
And now … Do please look to the right at our ever-growing New Resolutions List!!! The 'bolded' entries are what's new pussycat! (See Below)
Thanks to those who sent in their New Resolutions! In the very soon, not too distant future, you will receive another email from me that will officially offer the NEW RESOLUTIONS: Be You, Everyone else is already taken e-Course. It will begin the 2nd week in January, giving everyone an opportunity to return and regroup after the holidays! (You can still add your New Resolutions to the list; scroll down to the PS for instructions on how to add your brilliance!).
One thing I know for sure is that if you are NOT FULLY YOU; if you are not dipping into and utilizing the very best of who you are, if you are preoccupied with what you are supposed to do, or overly concerned with what other people think – then reaching your goals (permanent weight removal or otherwise) – is going to be a major challenge, way more difficult than it need be! The course will take place over 3 weeks. You will receive a weekly lesson, weekly workbook to accompany the lesson and much more!!! So hang tight, Tushkateers!!! We're going to give the best Kick Tush Start to a new year, ever! IF YOU WANT to SIGN UP AT DISCOUNTED PRICE, WRITE ME NOW!!!
In addition, I will be offering the hypno-meditations on CD! Some of you have asked me repeatedly to offer them, having had such great results from utilizing them in previous e-courses! Sign-up and order emails to come!!!
Now it is time for me to push off into the beautiful gray NYC skies. I wish you well, Tushkateers, across the land! Take the glitches in stride and have a spectacular week!!! Awesome, rad, groovy week!
Spread the word … NOT the icing!
Janice
PPS: NEW YEAR'S RESOLUTIONS – Our list is growing and color-coded. What kind of New Resolution are you looking forward to? Please don't tell me that you want to 'lose weight.' It's NOT about the weight, it's about YOUR LIFE! What do you want? What do you truly deserve in 2012! Write ME! Subject: New Resolutions!
RESOLUTION CENTRAL

Tushkateers, join me as we together rethink our Resolutions 2012 list!
This could be the start of something NEW!
For the full skinny, check out the Resolutions KICK, and then send us your 2012 resolutions!
Choose the joyful path. * Step beyond resistance * Unfold the authentic me * Consciously tune in when the 8-track of imagined injustices (and would-be injustices) begins to play in the soundtrack of my life. * Let go of the fear * Shelve the worry * Tap into my imagination, full on! * A fresh coat of paint in every room; both inner and outer rooms! What color might I paint my esophagus??? Hot pink! * Tune into my inner confidence * Let go of self-doubt * Declutter the basement (and then my mind) * Manifest money (gobs of it all for the greater good) * Strengthen relationships with loved ones * Make art * Heal * Get Well * Practice Loving-Kindness * Stretch high and then higher * Shoot for the moon * Let go * Practice gratitude * Learn to Swim * Be generous * Live in Faith * Eat more fruit; drink more water … more health * Allow creative time to be important time * Clean and create MY space in my house and in my head * I resolve to use the best ever affirmation I REMEMBER in all situations that offer the opportunity to act badly. I REMEMBER that I have decided to choose to be kind, understanding, positive, and healthy. The brief hesitation to think "I remember" before opening my mouth or making that decision – can provide a power boost just in the nick of time. * My New Years resolution is take one day at a time to keep in balance physically, mentally, emotionally and physically….If I should fall, I'll pick myself up with self- forgiveness and move on. To have a attitude of gratitude for I truly am blessed. Pax et bonum! * get serious about saving money. There's a correlation to the two, I lost a lot of weight, thanks to you however the money part .resonates. Ergo…its on the money this year. * maintain weight loss * I resolve to entire my 40s (I turn 40 on January 30) with grace and in Grace. * I resolve to be at peace with myself. * I resolve to live in faith. * I am going to run/walk/jog two times every week, or one hour each, to start. Starting tomorrow. -Scarlett O'Hara …. No, seriously, tomorrow. and, I'm going to continue to do yoga each day at home. Love, Mia *

WRITE ME. SHARE YOUR NEW RESOLUTION(S)!
Spread the word … NOT the icing!
Janice
————————————————————————
For the best in wellness and weight loss wisdom, visit Janice:
Our Lady of Weight Loss
join the Kick in the Tush Club
Become a Tushkateer!
Tushkateer* A Tushkateer is a person who receives Our Lady of Weight Loss's newsletter, called the KICK in the TUSH CLUB!!! Sign up and receive her weekly e-newsletter with all the news that 'fit' to print, and you are automatically a Tushkateer! How cool is that?
Follow Janice on Twitter @OurLady
Facebook.com/OurLadyofWeightLoss
Need a Weight Loss Success Coach?