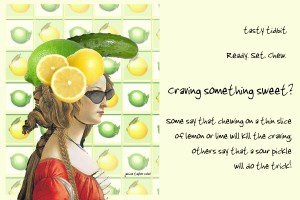 For those of you who are Weight Loss Virgins (this is the first time ever that you've thought about watching your weight) … you're going to love Our Lady of Weight Loss's TOP 13 KITCHEN TIPS!
For those of you who have been around the weight loss block more than once, well … you're going to love them, too!
Our Lady of Weight Loss's TOP 13 Cookin' It Healthy Tips
1. Add dried fruits to baked goods.
2. Substitute applesauce or mashed bananas instead of butter.
3. Instead of glopping (or is it globbin'?) on the butter, use extra virgin olive oil.
4. Saute vegetables in vegetable broth.
5. Skip the heavy salad dressing, squeeze a fresh lemon on your salad.
6. Make a list of your favorite fruits and vegetables and then seek out recipes!
7. Get popping! Air popped popcorn is high in fiber and low in calories.
8. Add veggies whenever possible. To stews, sandwiches, casseroles and salads.
9. Try more fruit desserts (fresh and stewed; maybe even a low-cal cobbler) instead of cakes and cookies.
10. Remove deep-fried from your vocabulary! Roast, grill, broil, grill, bake, poach, steam, and stir-fry!
11. Eat unpeeled fruit! The nutrients are in the peel! (Not bananas, of course!)
12. Use evaporated skim milk in place of half-and-half. Lasts a lot longer, too!
13. Create a healthy pantry. Keep canned beans on hand: chick peas (garbanzo), black beans, black-eyed peas, pink bean, pinto beans, red or kidney beans.
Spread the word … NOT the icing!

Janice
wise * fun * utterly useful
Janice Taylor's KICK in the TUSH Club videos!
Subscribe and Receive – as they are HOT off the REEL!
____________________________________________
For the best in wellness and weight loss wisdom, visit Janice:
Our Lady of Weight Loss
join the Kick in the Tush Club
Follow Janice on Twitter @OurLady
Facebook.com/OurLadyofWeightLoss