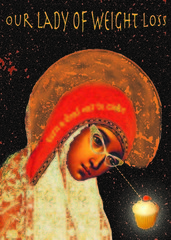 Our Lady of Weight Loss wanted me to be sure to tell you that she created an entire page of FREE Weight Loss e-Cards for you to send to your weight loss pals that are sure to motivate, inspire and put a smile on both your face and your friend's!
The e-cards are free of judgment, insults, left-hand compliments! And they are free as in no cost to you!
Send a Weight Loss e-Card now!
Spread the word … NOT the icing,
Janice Taylor
wise * fun * utterly useful

____________________________________________
For the best in wellness and weight loss wisdom, visit Janice:
Our Lady of Weight Loss
join the Kick in the Tush Club
Virtual Shoulder
Follow Janice Taylor on Twitter: www.twitter.com/OurLady
Facebook: www.facebook.com/OurLadyofWeightLoss