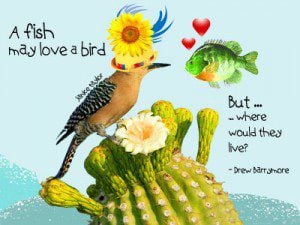 This week's Get Jiggy Weight Loss Jigsaw Puzzle was inspired by the multitude of birds that are chirping outside my window; the cactus that are in bloom and the fun, happy Drew Barrymore quote.
Seriously, there's no law against the a fish loving a bird, but … where would they live?
Have fun chewing on their conundrum, while you burn calories clicking away on "Fish Loves a Bird," a Weight Loss JigSaw Puzzle from our country's premiere Weight Loss Artist, Janice Taylor.
FYI … a Weight Loss Artist is a person who makes art about food and then weight loss process!
Spread the word … NOT the icing!
Janice

Janice Taylor's KICK in the TUSH Club videos!
Subscribe and Receive – as they are HOT off the REEL!
____________________________________________
For the best in wellness and weight loss wisdom, visit Janice:
Our Lady of Weight Loss
join the Kick in the Tush Club
Virtual Shoulder
Follow Janice Taylor on Twitter: www.twitter.com/OurLady
Facebook: www.facebook.com/OurLadyofWeightLoss