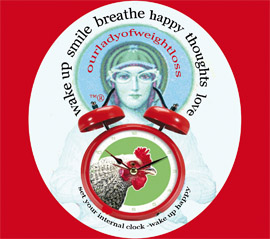 With the exception of the State of Arizona and parts of Indiana, on this Sunday, March 13th at 2:00 am, we set our clocks ahead to enjoy an additional hour of daylight.

How will you utilize your extra hour; the hour that you will have 'gained' this weekend?
Will you shake off your tale feathers and take a long walk in the 'light?' Will you spend an extra hour decluttering, giving your spring cleaning plan a
kick in the tush
?
Will you allow the 'light' to shine bright or will you set your dials to dim?
How will you 'spend' your extra hour? Will you kick start Spring by springing into action, sending your 'upward spiral' into motion? How will you fuel your inner fire? Those parts of you that are hibernating?
1. Gardening? There is magic in 'dirt.'
2. Taking a long walk around the park?
3. Sitting on a mountain top?
4. Calling old friends?
5. Chanting Om?
6. Contemplating your navel?
7. Sitting on the porch, rocking back n' forth?
8. Cleaning out the fridge?
9. Sleeping In or stretching it out?
10. Jumping high or laying low?
How will you set your 'upward spiral' in motion?
Please 'weigh-in' below!
Spread the word … NOT the icing,
Janice Taylor
wise * fun * utterly useful
____________________________________________
For the best in wellness and weight loss wisdom, visit Janice:
Our Lady of Weight Loss
join the
Kick in the Tush Club
Virtual Shoulder
Follow Janice Taylor on Twitter:
www.twitter.com/OurLady
Facebook:
www.facebook.com/OurLadyofWeightLoss