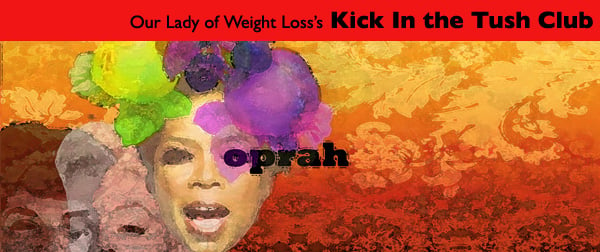 A Tushkateer (Kick in the Tush Club member) sent me a super-sized motivational portion of a speech that Oprah Winfrey gave to the graduating class of 2007 at Howard University in Washington, D.C.

For those of you who have already seen it, read it and loved it, please take it in again, on a deeper level. Chew over the meaning! And for those of you who are reading this for the first time, get ready for a platterful of motivation! Digest every tasty morsel and comment below. Oprah's words linger and satisfy!
"So here are a few things I want you to know that I know for sure. Don't be afraid.
All you have to know is who you are. Because there is no such thing as failure.
There is no such thing as failure.
"What other people label or might try to call failure, I have learned is just God's
way of pointing you in a new direction.
"Your calling isn't something that somebody can tell you about. It's what you feel.
It's a part of your life force. It is the thing that gives you juice. The things
that are you supposed to do. And nobody can tell you what that is. You know it
inside yourself.
"You know, I come from good stock. Dr. Swygert was mentioning my grandmother who had a dream for me. And her dream was not a big dream. Her dream was that one day I could grow up — she used to say, I want you to grow up and get yourself some good white folks, because my grandmother was a maid and she worked for white folks her whole life.
"And her idea of having a big dream was to have white folks who at least treated her
with some dignity, who showed her a little bit respect. And she used to say, I want you to — I hope you get some good white folks that are kind to you. And I regret that she didn't live past 1963 to see that I did grow up and get some really good white folks working for me.
"I spent eight years in Baltimore. I knew in those years in Baltimore that I was
unhappy being a television news reporter. But the voice of my father, who thought
he knew what I was supposed to do was in my head. He said don't you give up that
job, girl. You're never going to make $25,000 in one year. That's my father's
dream for me. But God could dream a bigger dream than you can dream for yourself.
And so I tried to live in the space of God's dream. And the television executives
told me when I was in Baltimore that I was just — it was too much. I was too big,
and I was too black.
"They told me that I was too engaged, that I was too emotional, I was too — too much
for the news and so they put me on a talk show one day just to run out my contract.
And that was the beginning of my story. So I say, even when things are difficult,
be grateful. Honor your calling; don't worry about how successful you will be.
Don't worry about it. Focus on how significant you can be in service and the
success will take care of itself. And always take a stand for yourself. Your values,
you are defined by what you stand for. Your integrity is not for sale.
"From the very beginning of my career in Baltimore, and I walked in the room and all
of the men in the room said to me you need to change your name, because nobody is
going to remember your name. You need to change your name and I said what do you
want me to change it to? They said we think Susie is a good name. Susie is a friendly
name. Susie is a name that people will remember. People can relate to Susie. I said
I think I'm going to keep my name if people remember it or not. It is my name. You
have to be willing to stand up for what you believe in. If I — if I could count the
number of times I have been asked to compromise and sell out myself for one reason
or another, I would be a billionaire 10 times over. My integrity is not for sale
and neither is yours."
For the full speech and video, please visit:
Graduation
More Weighty Inspiration:

Neuroscience: Old Habits Die Hard
Kirstie Alley: Stuck in a Fat Suit
Celebrate Failure
!
Reserve your seat at the Holiday Table!
The Holiday Diet: Wake Up Thinner!
Spread the word … NOT the Icing!
Janice
________________________________
Does your weight loss chart look like an EKG?
In need of a coach?
Write Janice
!
Follow Janice on Twitter and/or Facebook!
Required Reading:Our Lady of Weight Loss: Miraculous and Motivational Musings from the Patron Saint of Permanent Fat Removal an OPRAH BOOK CLUB pick: Summer 2009 – Buy NOW!
Join the Our Lady of Weight Loss's Kick in the Tush Club: Beliefnet Chapter.
Write Janice Taylor, Weight Loss Coach, Certified Hypnotist, Author and 50-pound big-time-loser for an introductory one-on-one coaching session.
Visit: www.OurLadyofWeightLoss.com
www.JaniceTaylorLiving.com