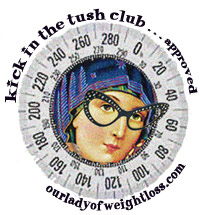 You may be clear about your goal, but are you thinking past your goal? Have you considered what reaching the goal will do for you or how it will change your life? Here, Our Lady of Weight Loss, presents an opportunity for you to 'coach yourself happy.'

———————————————————————————
People are often clear about a goal.
At the same time, they are not clear about what achieving that goal will give them or do for them. Nor are they aware of how reaching their goals (weight loss or otherwise) will change their life as they know it.
You can achieve clarity by stating a goal.
"I want to be rich."
Now ask yourself:
What will achieving this goal do for you?
A: It will give me financial freedom.
What will financial freedom do for you?
A: It will allow me to quit my sucky job and travel.
What will traveling do for you?
A: It will broaden my horizons.
What will broadening my horizons do for you?
A: It will make me feel better about the way I live my life.
What will making you feel better about living your life do for you?
A: It will make me feel good about myself.


What will feeling good about yourself give to you?
A: Self-confidence
What will self-confidence give to you?
A: Freedom to be me.
Get the idea? Keep digging deeper and deeper.
Toss out a couple of goals and see where it takes you!
And let me know! Please. I just love hearing from you!
Comment below … or write me!
More Coach Yourself Happy!
diets don't work … Listening Does.
Are fat people dormats?
One Size Fits All Tips
Spread the word … NOT the icing,
Janice
____________________________________
Follow Janice on Twitter and/or Facebook!
Required Reading:Our Lady of Weight Loss: Miraculous and Motivational Musings from the Patron Saint of Permanent Fat Removal an OPRAH BOOK CLUB pick: Summer 2009 – Buy NOW!
Join the Our Lady of Weight Loss's Kick in the Tush Club: Beliefnet Chapter.
Write Janice Taylor, Weight Loss Coach, Certified Hypnotist, Author and 50-pound big-time-loser for an introductory one-on-one coaching session.
Visit Our Lady of Weight Loss.


about Janice