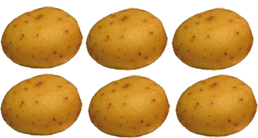 How much dead weight are you carrying around with you? I suspect you are unaware, as was I, that dead weight is heavy, both metaphorically and literally, and that we are individually and collectively carrying around extreme amounts of it.
Dead Weight: Yours and Mine

I'd read about a teacher who asked her students to bring a clear plastic bag and a sack of potatoes to class. For every person the student refused to forgive, they were to write the person's name and date of upset on a potato and put it in their plastic bag. Their bag began to fill up quite quickly. The moral of the story was that they were lugging around some pretty hefty amounts of anger that was clogging their spiritual development, big time. I call it dead weight.
This got me to thinking. Not only am I carrying around a lot of anger at all the people in my life who clearly haven't read the script I've written for them, but I'm also cartin' around barrelfuls of upset and anger at myself for my dietary transgressions, lack of exercise, snappishness here and there directed at my loved ones . . . and who knows what else.
Imagine if I dropped a potato in my proverbial plastic bag every time I was upset with myself and dragged it around with me all day and into the night. Whoa! That's some heavy duty, weighty bag that is robbing me of my energy, focus and determination.
Dead Weight Starts at Home
Take a moment, a minute, an hour – the entire day! – depending on how long your 'self-upset' list is … and write out each upset on one of a potatoes.
You can either draw your own potato, or use mine (print above potatoes).
And NOW … put them into your bag of choice and carry them around with you all day long. I know your bag of paper potatoes won't have the same physical effect as a heavy bag of real potatoes, but it may have the same mental-cize impact.
Plus, I am saving you lots of embarrassing questions from friends, family and co-workers. "Have you seen Janice and her enormous bag of potatoes? Jeeze-Louise, she is a kook-ball!"
At the end of the day, take a look at your stack of paper potatoes. How much upset do you aim at yourself? Ceremoniously rip or shred each potato and put them into a little container.
Now … feel lighter.
All Is Forgiven, Move On!
More Weighty Tips:
12 Tips: How to have a great conversation!
Quick weight loss center: Caffeine
7 Tips: Stressed to Refreshed!
Spread the word …
not
the icing!
Janice
——————————————————
Follow Janice on
Twitter
and/or
Facebook
!
Our Lady of Weight Loss: Miraculous and Motivational Musings from the Patron Saint of Permanent Fat Removal
an
OPRAH BOOK CLUB
pick: Summer 2009 – Buy NOW!
Join the
Our Lady of Weight Loss's Kick in the Tush Club
:
Beliefnet
Chapter.
Write Janice Taylor, Weight Loss Coach, Certified Hypnotist, Author and 50-pound big-time-loser for an introductory
one-on-one coaching
session.
Visit
Our Lady of Weight Loss
.

about Janice