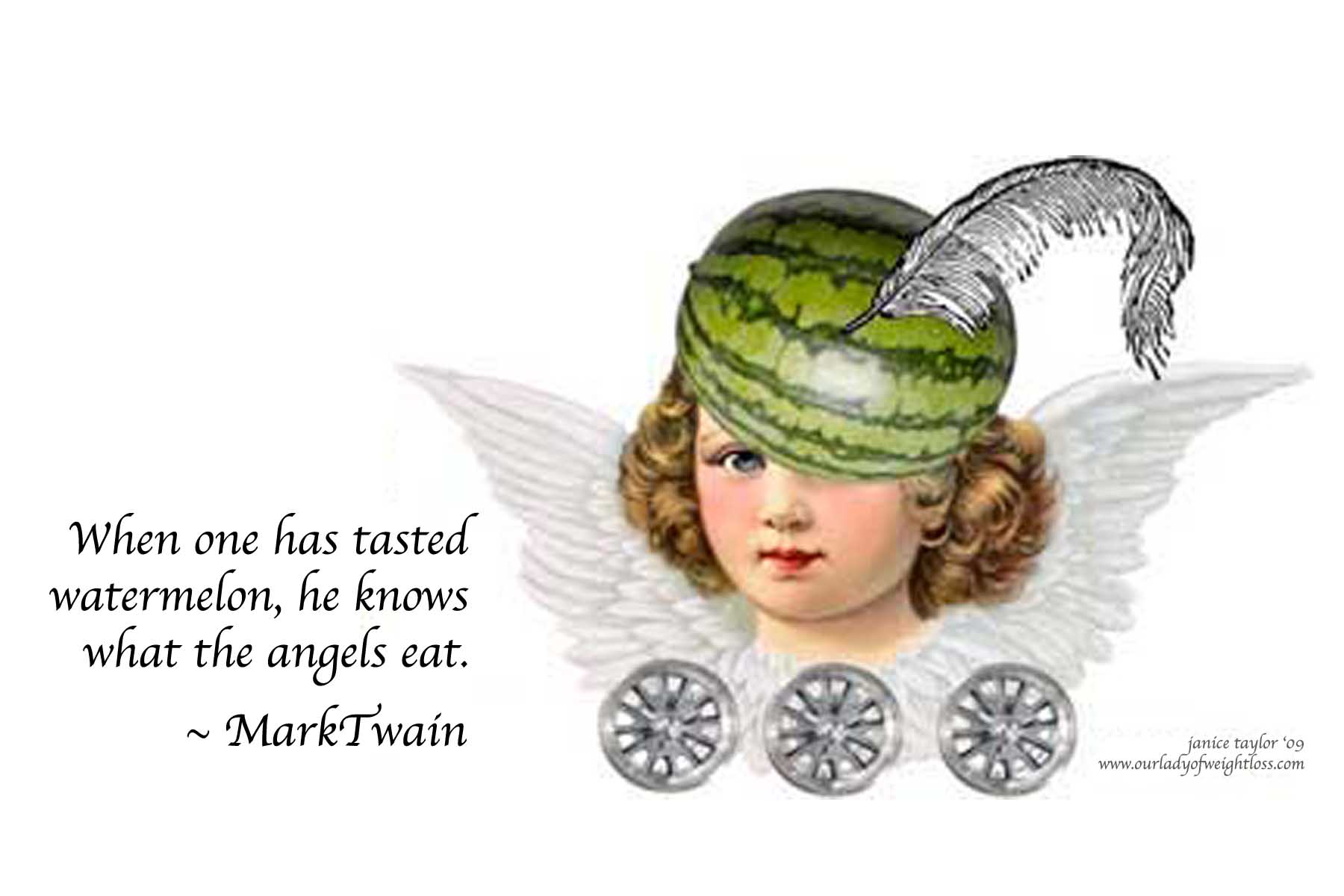 This week's jigsaw puzzle was inspired by an absolutely delicious watermelon fruit compote recipe that Our Lady of Weight Loss whipped up and served last night. (I so love it when she visits!)

She got the recipe from the Watermelon Angel! It's a perfect dessert dish to end a hectic week, or celebrate the weekend. Very festive! So thanks to Our Lady of Weight Loss and The Watermelon Angel.
Watermelon Compote a la Our Lady & The Angel
Ingredients:
3 cups Watermelon cubes, balls or chunks (whatever bite size you like best) * 2 cups cubed Pineapple (fresh, of course!) * 3/4 cup green grapes, seeded * 3/4 cup red grapes, seeded * 1/4 cup Creme de cassis (black currant liqueur)
Instructions:
Combine fruit in a bowl. * Gently add and toss liqueur. * Cover, chill.
Serves 6
Join with Janice and OLofWL! June 7-12!!! HURRY!!!!
Our Lady of Weight Loss EnLIGHTens
@
Omega Institute for Holistic Studies
Spread the word … NOT the icing,
Janice
———————————-
Follow Janice on
Twitter
:
Facebook
!
Janice Taylor is a Life & Wellness Coach, specializing in weight loss, reinvention, transformation & happiness
, author, seminar leader and 50-pound-BIG-Time-LOSER!
Write Janice
for an Introductory Coaching Session.
For more motivation and inspiration, join the
Kick in the Tush Club
: Beliefnet Chapter.
"Janice Taylor is a certain kind of kooky genius ~ see if her idiosyncratic diet plan will work for you." ~ O, The Oprah Magazine

about Janice