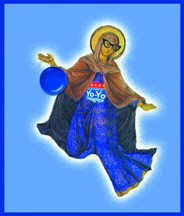 KICK 'em and TWIST 'em Exercise Tips for Exercise Drop-Outs.
Our Lady of Weight Loss wanted me to share some exercise ideas for those of us who are NOT gym bunnies … some creative ideas to loosen us up, get us movin' and shakin'. What gets you moving???

1. Pretend your Madonna: Blast the music and dance in your underwear (when no one's home, of course).
2. Remember the
Hula-Hoop
? Let's start it up again! Why not?
3.
Hopscotch
was the one and only game I could play effectively when I was a kid. Grab some chalk, your kid or your neighbor's and hit the sidewalks.
4.
Walk backwards
. Get your friends together and do it in reverse. It works an entirely different set of muscles. And makes you laugh!
5.
Twister.
Twist away w. your partner and end the night in a heated sweat.
Healthy Links
:
Recession proof laughs.
Keeping Perspective
Spread the word … NOT the icing!
Janice
———————————————————————————–
Janice Taylor is a Life & Wellness Coach, specializing in weight loss, reinvention, transformation & happiness
, author, seminar leader and 50-pound-BIG-Time-LOSER!
Write Janice
for an Introductory Coaching Session.
For more motivation and inspiration, join the
Kick in the Tush Club
: Beliefnet Chapter.
Pick up a copy of Janice's latest:
All Is Forgiven, Move ON ~ Our Lady of Weight Loss's 101 Fat-Burning Steps on Your Journey to Sveltesville
!
"Janice Taylor is a certain kind of kooky genius ~ see if her idiosyncratic diet plan will work for you." ~ O, The Oprah Magazine

about Janice
Follow Janice on
Twitter
:
Facebook
!