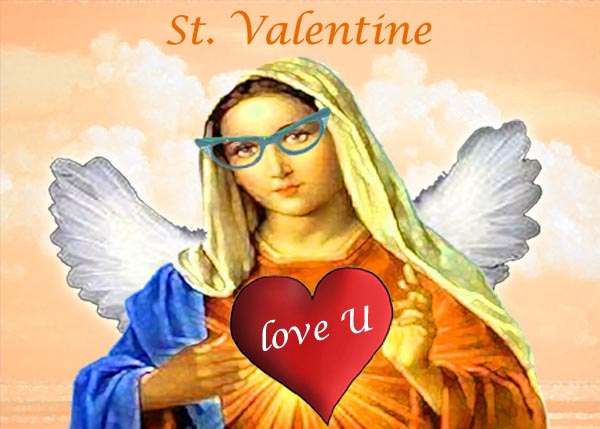 St. Valentine's Day is next Saturday, February 14th (as if you didn't know), and I wanted to be sure to get your dinner menu to you now, giving you enough time to think the evening through, create your shopping list, shop and cook!
Although this meal is most definitely more than this Beliefnet blogger would normally eat in one sitting, it is my hope that the steam and sexy quality of the food will ignite enough fat-burning adrenaline and desire that one will cancel out the other! You dig? (As they said before my time … still I enjoy the "beatnik" image!)
Your St. Valentine's Dinner Menu ~ from the Our Lady of Weight Loss Kitchens
Appetizer – Best Ever St. V. Deviled Eggs w. Caviar
Soup – Ginseng Chicken Soup a.k.a. Chinese Penicillin
Salad – Really Red and Radical Radish Salad
Main Dish – Perfectly Porky with Fig Sauce
Vegetable Dish – Shameless Champagne Carrots
Dessert – Delicious and Decadent Dark Chocolate Squares
NOTE: If you are cooking for two or four, adjust quantities. Some of these recipes are so good, I make them in big batches and eat for a few days. Like the Deviled Eggs … great for a snack, breakfast or lunch with a salad.
BEST EVER St. V. DEVILED EGG and CAVIAR
CAVIAR: stimulates the formation of testosterone, maintaining male functionality.
Ingredients: 8 hard-cooked eggs * 8 Tablespoons caviar (red or black) * 1 Tablespoon chopped chives or green onions * 2 Tablespoons mayonnaise (reduced calorie) * 1 Tablespoon Dijon Mustard * splash of hot sauce (optional) * 1 teaspoon freshly ground black pepper
Directions: Shell the hard-boiled eggs, cut them in halves, and remove the yolks. * Mash the yolks well and combine with all ingredients except caviar. * When it is thoroughly whipped together, heap it into the whites with a spoon * Put a little dollop of caviar on the top of each egg. I like to alternate black caviar and red! Serves 8 to 16.
***
GINSENG CHICKEN SOUP (Chinese Penicillin)
GINSENG: Increases desire for physical contact.
This recipe serves 12 (which is a lot more than 2 … duh!), but it's soooo good, healthy, low in calorie and potent, why not cook it up in big batches!
Ingredients: non-stick spray (I used Pam or one of those type of sprays) * 1 tablespoon vegetable oil * 1 cup chopped sweet onion (get the onion goggles out!) (link to onion goggles) * 3 tablespoons diced peeled fresh ginger * 8 garlic cloves, minced (feeling brave? Go for 10 cloves, minced!) * 1 pound skinless, boneless chicken breast, cut into 1-inch pieces (cooked) * 3 cups water * 1-quart carton low-fat chicken broth * 2 cups fresh or frozen yellow corn * 3 sliced ginseng roots * salt and pepper to taste
Directions: Spray large pan with cooking spray. When hot add oil. * Add onion, ginger, and garlic cloves; sauté for a few minutes, until onions are translucent. * Add chicken. * Add water and broth; bring to a boil. * Stir in corn and ginseng and bring to a boil. * Reduce heat; simmer 20 minutes. Sprinkle with salt and pepper. Serves 12 – one cup servings
***
Really Red Radish Salad
RADISH: Egyptian pharoahs loves its spicy taste for stimulating the palate!
Ingredients: 2 teaspoons sugar * 1 fresh lime, juiced * 1/2 cup reduced fat/calorie sour cream * 8 red radishes, thinly sliced * 2 tart apples, cored, and then thinly sliced * 1 (6 to 8 inch) cucumber, seeded and thinly sliced * 2 tablespoons chopped fresh dill.
Directions: Combine sugar, lime juice and sour cream in a medium bowl with a fork. * Add radishes, apple, and cucumber. * Turn vegetables and fruit in dressing to coat. * Season with dill, salt, and pepper, toss again. Serves 4.
***
Shameless Champagne Carrots
CHAMPAGNE : the 'drink of love' lowers inhibitions
This simple carrot side dish is fast and easy to make. There is something magical about the combination of carrots and dill. It is a great use for leftover champagne.
Ingredients: Non-Stick Spray * one tablespoon butter * 1 pound carrots, peeled and thinly sliced into coin shapes (vs. julienne strips)* 1/4 cup low-fat chicken stock * 1/2 cup champagne (save the rest for later!) * 1 teaspoon honey * 1 Tablespoon fresh lime juice * 2 teaspoons fresh dill weed, chopped or 1 teaspoon dried (fresh preferred)
Directions: Coat heavy saucepan with non-stick spray. *Add butter. * Sauté the carrots in the butter over medium heat until they begin to brown. * Add the chicken stock, champagne, honey, and salt. * Stir and Simmer. Cover and Cook over low heat, until al dente (do NOT let them get mushy! Al dente is best!) About 5 minutes. * Remove cover and cook until liquid is almost evaporated. Still using low heat … add lemon juice, dill week, stir to combine and serve. Serves 4 to 6.
***
Perfectly Porky Chops with Fig Sauce
FIG: Greeks ate in a frenzied copulation ritual.
The chipotle pepper blends beautifully with the figs – spicy sweetness YUM – to give it a bit of a kick!
Ingredients: 4 boneless pork chops, approx. 1″ thick (4 to 6 ounces each) * Kosher salt * Fresh ground black pepper * 1/2 teaspoon ground chipotle peppers * non-stick spray * 1 Tablespoon Virgin Olive Oil * 1/2 cup minced sweet onions * 5 garlic cloves, finely minced * 1/2 cup red wine *1 cup low-fat chicken broth * 1 teaspoon fresh thyme leaves *1 cup diced fresh figs
Directions: Season each pork chop with salt, pepper, and ground chipotle, place between two sheets of plastic wrap and pound down! Pound, pound, pound. * Heat a large heavy skillet over medium-high heat. Spray non-stick spray and then add olive oil. Sear pork loin chops until golden brown on each side. * Remove to a platter and keep warm.
Reduce heat, add onions and sauté until translucent. *Add garlic and sauté some more! *.Carefully pour in red wine into pan (not your mouth!). Stir for about one minute. Add broth, thyme and figs. * Cook over medium heat, stirring often and mashing figs until the sauce is thickened. * Somewhere between 10 and 15 minutes. * Place pork chops in pan, flip it, again, coating both sides with the sauce. * Simmer for a minute or two, until the chops are fig infused. Serves 4.
***
Delicious and Decadent Dark Chocolate Squares
CHOCOLATE: Relaxes and stimulates!
One Square Dark Chocolate Square !!! (small square) Unwrap it. Let it melt in your mouth! Savor it!!! – one one-ounce square per person!
Want more Valentine's Day Family, Relationships, LOVE Info?
Enjoy!!!!
Spread the LOVE … not the icing!
Janice
———————————————————————————–
Janice Taylor is a Life & Happiness Coach, author, seminar leader and 50-pound-BIG-Time-LOSER! Write Janice for an Introductory Coaching Session.
For more motivation and inspiration, join the Kick in the Tush Club: Beliefnet Chapter.
Pick up a copy of Janice's latest: All Is Forgiven, Move ON ~ Our Lady of Weight Loss's 101 Fat-Burning Steps on Your Journey to Sveltesville!

"Janice Taylor is a certain kind of kooky genius ~ see if her idiosyncratic diet plan will work for you." ~ O, The Oprah Magazine

about Janice
Follow Janice on
Twitter
:
Facebook
!