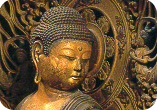 Scott Mitchell is a Shin Buddhist practicioner and scholar from Oakland, CA, with a Doctorate in Buddhist Studies. He's the co-host of the podcast The Dharma Realm (with Rev. Harry Bridge) and also runs his own excellent Buddhist blog The Buddha is My DJ. He works at Berkeley's Institute of Buddhist Studies, where he teaches courses on Buddhism and globalization.
I first became aware of Scott a few months back where this particular dialogue on The Smiling Buddha cabaret blog (by Buddhist NellaLou) prompted Scott to note (accurately) on his own blog that NellaLou had me "squarely in her crosshairs".
This dialogue led me to the realization that if this community, and in particular this blog with its preponderance of non-coastal readers, were to truly reflect One City, then I had to stop thinking my own thoughts mattered so much and open up this well-trafficked floor to other passionate voices. I'm glad Scott accepted my offer to write a guest post for us here. – Jerry Kolber
***********
by Scott Mitchell
I believe, deeply and passionately, in the inherent interdependence of all reality, that, as the description of this blog states, nothing happens in a vacuum. And that is why I do not believe in American Buddhism. I do not believe in One Dharma, or even in One City.


I work at the Institute of Buddhist Studies
in Berkeley. Most days, I ride my bike to work along a route that takes
me up Russell Street, a quiet, residential street in south Berkeley.
Along the way I'll pass Wat Mongkolratanaram,
an impressive Thai temple wedged in between the south branch of the
Berkeley Public Library and a modest duplex. Occasionally, there'll be
a saffron-robed monk sweeping the driveway or sidewalk out front. If it
was Sunday, the neighborhood would be overwhelmed with people attending
Sunday morning Thai brunch, a Berkeley tradition going back nearly
thirty years. It's one of the ways the temple funds itself, and if you
can get through the throngs of people there only for Thai food, you'll
find that the monks are holding service and giving Dharma talks in a
small shrine room behind the main temple building.
Literally three doors up the street is the Berkeley Zen Center,
marked only by a small sign at the end of the walkway. The Zen Center
has taken up residence in a pair of houses that hide, in a
well-maintained garden out back, their zendo and dokusan
hut. If you're in the neighborhood on any given Saturday morning,
you'll likely see members doing walking meditation around the block.
The title on my business card for the IBS says that I'm the "Website
and Multimedia Director" — which really means that if it plugs into the
wall, I'll probably be able to fix it. But more than that, I'm a
teacher. I am blessed to spend my days researching, learning, and
teaching about Buddhism, and when I'm not doing that, my tech-work
supports the larger aims of a Buddhist organization that was founded
sixty years ago to serve the needs of the American Jodo Shinshu
community. Today, we also offer degree programs for general Buddhist
studies, Buddhism and psychology, and Buddhist chaplaincy training.
Yeah. It's a pretty good gig. I wake up every day grateful for that.
* * * *
I was talking with a friend today and said that you can't throw a rock
in this town without hitting a Buddhist. But apart from that word,
"Buddhist," what unites us? What do we have in common? The "Dharma"?
Which part? Surely how the Dharma is understood at Wat Mongkolratanaram
is decidedly different from how it's understood at the Zen Center or
around the corner at the Berkeley Shambhala Center.
Meditation? Mindfulness? Compassion? Maybe. But how each of us
understands or practices these concepts also differs. As much as we
have in common, as much as there is that unites us as Buddhists, there
are also real differences here, both in belief and practice.
And that's not a bad thing.
If we take that old Zen refrain seriously — that Dharma doors are
boundless — then we must take this diversity of American Buddhism
seriously. So when I say that I don't believe in American Buddhism,
what I mean to say is that I do not believe in its singularity. I
believe, deeply and passionately, in its multiplicity, in American Buddhisms.
I believe in, and celebrate the necessity for, multiple Dharmas — or,
perhaps more specifically, multiple approaches to understanding the
Dharma. There are multiple ways of approaching the Buddha's teachings
because, at the end of the day, sentient beings are numberless, and
we've each got our own individual karmic burdens to work out. So there
can't be one Dharma just like there can't be one way of being human.
I see American Buddhisms and the Buddha's Dharma not as "one" thing but
rather as multiple, overlapping things with fuzzy and ill-defined
borders, a crazy Venn diagram of ideas and practices that are all
related and, collectively, can be called "Buddhism" or "Dharma." But no
one of these things can stand in for the whole.
Just like we can't
point to one of the Five Skandhas
and say "that's the essence of 'me'", we can't point to one brand of
Buddhism, one part of the vast library of the Buddha's teachings, and
say "that's the essence of Buddhism." It is only when looked at
collectively can we describe them in their entirety as "Buddhism."
Dharma doors really are boundless, and for a good reason. If you
haven't found one that works for you, try another.
For more of Scott Mitchell's writings please visit The Buddha is My DJ.