This Monday was the last meeting of fall
Heartcore Dharma class series
. We met, meditated, and had a discussion, after which most of the class adjourned to the East Village for cheap (and somewhat flavorless) Indian food and libations. Folks were kind enough to let me take some pictures during class, too.
I've commented before about the power of sitting in groups: It clarifies my purpose and my intention, and it always gives me a palpable sense of return. Practicing at home by myself important, but like anything done in isolation it's easy for my mind to lead my astray, into the winding paths and brambles of distraction, misuse of the techniques, and solipsism. The Refuge Vow, which concretizes one's formal entry in to the Buddhist path, is clear: You take refuge in the Buddha, the Dharma, and the Sangha. Community is equal to study is equal to the example of the Buddha.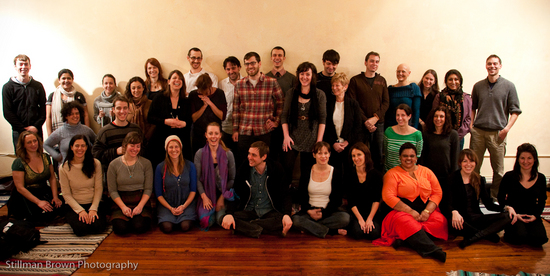 Community is my lifeline back to a larger sense of why I meditate, and within that, the motivation to continue and go deeper. Sure, I practice to better understand my own mind, and to be more compassionate with myself, but meditation isn't meant to happen in a vaccum. It's also about connecting with other people: coming out of my conditioned defensive crouch, being less neurotic, more generous, more loving.
Thanks to everyone for another good semester.