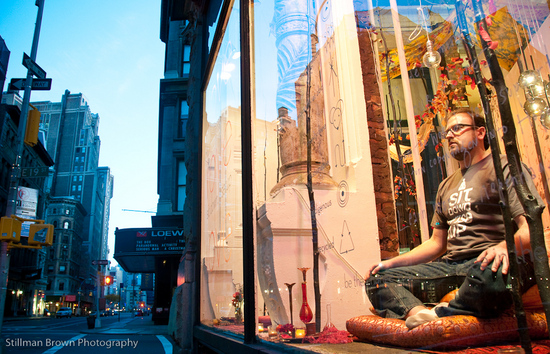 Volunteer (and One City blogger) Paul Griffin with the streets to himself at dawn
For 24 hours last Friday and Saturday volunteers from the ID Project sat in the large display windows at ABC Carpet & Home at the corner of Broadway and 19th Street in New York and meditated. I knew this event was something different – a bit radical, perhaps a bit of a stunt – but I had no idea it would generate the energy and emotion it did from the sitters and people on the street.
As the location and staging area for the event ABC Carpet & Home was, in one way, a perfect irony. We were there to practice mindfulness, non-attachment, to focus on inner development over material grasping in the middle of a sumptuous landscape of beautiful and expensive objects. As hosts, however, ABC made a lot of sense: they are focused on responsible, sustainable consumption. After 18 hours, the place felt like home. I would pass shoppers on my way to sitting and think, "they don't really appreciate this place. They're just here to buy stuff."
Then there were the crowds. In my two 4-hour meditation shifts, I experience range of reactions that truly surprised me. Some people stopped and bowed to me out of respect. Others banged on the glass and tried to break my concentration. Some just stared, the fact that people would just sit in windows temporarily frying their circuits. And then there was the hostility. I had one guy come right up to the glass and stand, legs apart, and stare at me angrily for a good three minutes until his girlfriend pulled on his arm and he left. I quickly realized – no matter what someone was doing to distract me, if I brought my attention back to the breath and waited, they would get bored and leave. Just like actual thoughts! Cool.
I've thought a lot about why people acted out towards us in the way they did, and with the frequency. I think it had a lot to do with us sitting in store windows – it's as if we were instantly transformed, partially, into objects or commodities. We weren't people engaged in a contemplative act, we were a sideshow. That, and the simple act of stopping and sitting together must have been oddly threatening. It may have seemed bizarre to some people and the discomfort of that led them to bang on windows and make mean faces.
Finally, there was the totality of the experience itself, and my fellow volunteers. After I had shot the folks who had sat through the night (Jess, Ethan, Rafi, Damaris, you guys are all ninja), everyone gathered in the break room, had tea, and told stories about sitting in the wee hours. It was a cross between a sleepover and a Dharma gathering at summer camp. The fellowship on the sitting and the way the city infused it all was pretty incredible. I hope ABC has us back next year!