Nonviolent followers of Vietnamese Zen teacher and world-renowned author Thich Nhat Hahn were violently ejected from the Bat Nha
monastery in Lam Dong province in Vietnam on Sunday. The monks' ejection followed months of tension.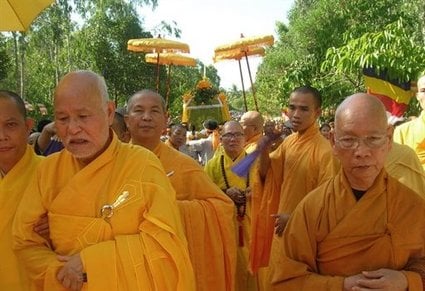 (photo AFP)

According to this AP story, the ejection of the monks ended a month of tension, and 380 monks and nuns were forced to leave by police and an angry mob.
Thich
Nhat Hahn returned to Vietnam in 2004, after almost 40 years of exile
by Vietnam's government. The Bat Nha monastery that opened after his
return became a source of tension between his followers and the
government. Some observers note that the monks began to speak out against the religion police and control of religion by the state, and that caused the government crackdown, although Vietnamese officials claim it is an internal
Buddhist dispute that caused the ejection.
Despite being dragged
from their beds and monastery by bat-wielding police and townspeople,
the monks maintained a nonviolent response.
Buddhist protest and monks' involvement in politics has a long history in Vietnam, dating back at least to Thích Qu?ng ??c , the Buddhist monk who lit himself on fire and burned to death in the middle of traffic in Saigon on June 1963 to protest the oppressive South Vietnamese government.
I've visited Vietnam and made it point to visit ??c's memorial. The car he drove to his self-immolation, the grounds of his monastery — all are preserved as a monument to Vietnamese patriotism. It was incredibly moving to see the small car, the traditional pagoda, the young monks still doing their daily tasks there.
Interesting to see that the engaged Buddhism of practicing monks in 2009 is troubling to the current Vietnamese state, as it was in the 1960s.
What can we do? I'm staying informed on the situation. I'm practicing some metta and tonglen for them. And I'm very grateful there are no religion police in the U.S.A.