"We can practice as Bodhisattvas in one moment and practice as devils in the next moment…We can have characteristics of the Bodhisattva at any time."
-Roshi Pat Enkyo O'Hara
Last night saw the launch of a new
Heartcore Dharma
Ongoing Studies Series on Monday nights with a lecture by
Village Zendo
co-founder and master Zen teacher Roshi Pat Enkyo O'Hara. The theme for this 12-week series being Bodhisattvas, Roshi O'Hara was tasked with answering the question: "Do Bodhisattvas have more fun?" She answered by outlining the qualities, archetypes, and guidelines of Bodhisattvas in the Zen tradition.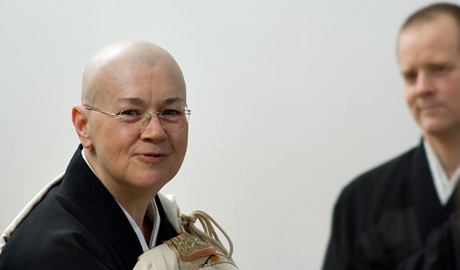 But before I get into the meat of her talk, what exactly is Heartcore Dharma?
The house was packed for Roshi O'Hara's talk, and as I settled on to my cushion I heard someone say, "class is back in session," and that's not a bad way to describe it. Heartcore Dharma on Monday nights is an ongoing series of classes for dedicated practitioners to deepen their connection with the Dharma. We have reading assignments, weekly contemplations, instruction in meditation practices like shamatha and metta, and Ethan, the ID Project's founder, encourages us not to miss a class unless we're dying, or dead.
Like one of your favorite courses in school, where everyone got along and bonded over the material and went out for drinks after class and felt comfortable with being utter geeks around each other, Heartcore Dharma nurtures the sangha, or community of the ID Project.
In her humorous and, for me, deeply settling way, Roshi O'Hara set the tone for the weeks ahead by discussing the qualities of Bodhisattvas and asking, every so often, "doesn't that sound like fun?" In the Buddhist tradition, Bodhisattvas are enlightened beings and true cosmic badasses – in the gentlest sense, naturally – who represent the highest attainment of wisdom, compassion, and equanimity. Roshi O'Hara said that Bodhisattvas are, "blissful, stimulating, playful," and they convey a "sense of expansiveness."
Bodhisattvas also embody qualities of courage and heroism, and Roshi tweaked the traditional definition a little by saying,
"There's no reason you can't make it a 'awakening being,' and I like that because there's a quality of
action
."
This slight variation really appealed to me, and speaks to the ID Project's mission to effect social change through
integral activism
. Roshi expanded on this when she talked about Zen's four guidelines for Bodhisattva's: Freely Giving, Kind Speech, Helpful Action, and Identity Action. The fourth, which she translates as "community action," is about mobilizing people to action.
As one of the ID Project's three Lineage Mentors, and a serious Chuck Norris Dharma Heavy Hitter, Roshi O'Hara will hopefully be back at the IDP and teaching again soon. I'll be blogging a round-up of the class each week with Dharma geek material and sparkling commentary, so check back next Tuesday for a weekly dose of Heartcore Dharma.