This past week I had the unfortunate experience of having my wallet stolen. All I know is that I had it and two blocks and one stop at a shoe store later, it was gone. As soon as I realized it was missing, my friend and I raced back to the shoe store, but no wallet. What's ironic is that I was listening to a podcast on mindfulness before I left the house.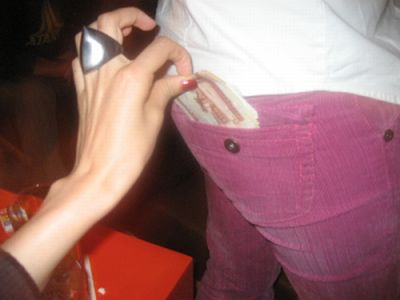 (image courtesy of matiasjajaja)
My initial reaction was a sort of panic and then annoyance that a) someone apparently took my wallet and b) the relaxing day I had been enjoying with my friend felt ruined. She accompanied me to two banks as I cancelled my cards, loaned me some cash and bought us Thai food. As I was sitting there still feeling angry she said, "Well, at least it's all replaceable." I thought about that simple statement for a moment and couldn't disagree. I told her she was right and then decided to just accept it and move on.
So, this experience actually ended up being a good, though somewhat inconvenient, lesson in impermanence. It was also a reminder that while we can't control the actions of others, we do have responsibility for our own reactions…and that's pretty empowering. Sitting around pouting about something I can't change is a choice- it's me deciding to ruin my own day by playing the blame game. Though accepting and letting go still might not always be my innate response, I'm practicing being able to get there a little quicker, and that constitutes some progress.