Twelve-year-old Nicholas Vossler knew what he needed after he was attacked by a shark off of Matagorda Island, Texas.
"Mom," the boy gasped as his stunned mom held him in her arms, "you need to start praying."
A tough sixth grader who pitches for his baseball team and was looking forward to the start of football practice, "Nicholas is one of the best fishermen I know," says his father, Cecil Vossler. "He often out-fishes most of the adults that go with us. He is always careful to wear his [sting]ray guards while we are wading, and always keeps his stringer [loaded with fish he's caught] away from him [so as not to attract sharks]. He has lost a lot of fish to black tips [sharks] who want his fish more than him!
"He has even been finned in the leg when I threw a sheephead in the boat and it came off the gaff," recalls Cecil. "He has fallen and cut his hands on oysters, been stuck with a hard head, and stuck by a hook — all the things an avid fisherman endures. He even has been seasick after battling a big amberjack. He said that he just got too hot. He is one tough kid."
But Thursday, he almost met his match.
"We were finishing off a perfect day with full limits of trout," remembers his father. "The kids wanted to go play in the surf, so my friend, Mark Constien, his three kids, my two youngest and I went across the island to the surf."
Dad stayed back with a 10-year-old daughter while Constien took the older kids onto a sandbar for a little body surfing.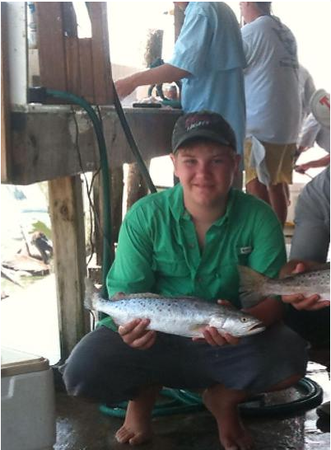 "The surf was pretty calm" so they weren't getting much wave action when Nicholas was grabbed by the shark. A large bull shark hit Nicholas and almost dragged him under as it attempted to tear the boy's foot from his leg.
"I knew something was wrong when he yelled out and I saw the panic in his face," says Cecil. "I saw he was being yanked."
Speaking to MSNBC from his hospital bed in Houston, the boy described the attack: 'We were swimming in the surf just having a good time, waist deep in water and a shark came up and bit my foot."
Constien grabbed Nicholas. "He saw what was going on and pulled him away from the shark," says the boy's father.
"Mark headed to shore with him, all 150 lbs, in his arms," recalls Dad. "I turned around to see all the commotion and to my horror saw my son's severed foot" with the bone exposed, skin and muscle hanging. The foot itself was detached, hanging by a few pieces of muscle.
On the shore, his mother, Alisha Vossler, said when she saw the boy in Constein's arms, she "knew it was serious."
"When I saw his mangled foot and a lot of blood," says Cecil, he didn't panic.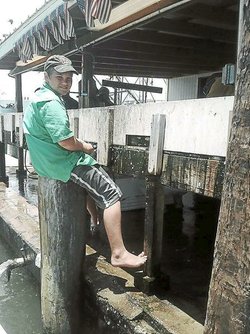 Why not?
"I knew God was with us. After the first shock we snapped out of that and you start thinking clearly. All I could do was take the flap of skin and place it back in place."
"We had angels watching over us that day," he adds.
Indeed, speedboat owner David White saw them carrying Nicholas and pulled into shore, offering to help. They loaded the boy and parents into the boat.
"When I put his head in my lap," Alisha remembers, "Nicholas said, 'Mom, you need to start praying.'"
She told the British newspaper The Daily Mail, "Once we were in the boat, Nicholas looked up at me and said, 'Mom, we need to pray.'"
The boy remained conscious and positive through the incident. His father said the avid baseball and football player never even cried.
"Once we started praying, it was OK," said Vossler.
As the speedboat raced to a landing there a helicopter had been summoned by cellphone, Cecil took off his shirt and wrapped it around his son's foot to stop the bleeding.
White "got us 7 miles back to the fishing center in about 8 minutes," he remembers. "They care-flighted Nicholas to Houston Children's Hospital."
The chopper was too small for family members, so Nicholas flew away and his parents sped the 150 miles to Houston, "the longest and scariest ride a parent can make," recalls Cecil.
Nicholas has had five surgeries so far.
"His mother and I are just grateful that he is here with us," says Cecil.
The boy remains in good spirits — and after five operations, doctors say they will be able to save his foot.
Faith in God has kept the family calm and strong through the entire ordeal, Alisha said.
"We also have a lot of friends that are praying for us and supporting us," she said.
Cecil said he believes his son will not let the accident stop him from his love of being in the water and believes he will be more cautious of his surroundings.
"When we go out fishing, I always tell Nicholas to be cautious and to consider himself lucky he had never been bitten by a shark," he said. "A few days ago, Nicholas looked at me and said, 'Dad you were wrong about that one.'"
The boy told the Today Show that when the shark attacked him, he was never afraid.
"When the shark bit me," he said. "I was in shock, but I knew everything would be OK."
Why?
Because, the 12-year-old explained, "I knew I was in God's hands."