So, you're chomping away at a hamburger and notice to your surprise that on the wrapper in tiny letters is "Revelation 3:20."
You examine the soft drink cup, and in the smallest possible print is "John 3:16." On the bottom of the milk shake cups is "Proverbs 3:5.″ And there on the wrapper of the double burger is "Nahum 1:7.″
What is going on?
You must be eating at the In-N-Out burger chain, which has 140 or so stores throughout California, Arizona, Nevada and as of today, north Texas.
The firm prints Bible verses on their wrappers and cups.
And they won't say why.
In 1948, husband and wife Harry and Esther Snyder were living in Baldwin Park, California, and had an idea for a drive-thru hamburger stand where customers could order over electric speakers and microphones – instead of the customary carhops at most such drive-ins.
Ordering dinner through a two-way speaker box was quite exciting back then – but the Snyders hung onto customers with a policy of fixing everything quickly when it's ordered – as in no freezers, no warming bins and no microwave ovens.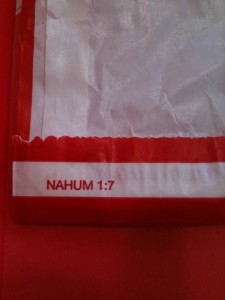 The company won't say when they started printing Bible verses on their wrappers and cups, however. The first notice in the news media was around 1987.
The Snyders occasionally explain to media inquiries that theirs is a family-owned business with no franchise stores or investors. So, they can print on their wrappers whatever they wish.
On the burger wrapper is an only slightly food-related message, Revelation 3:20, which the customer can look up for themselves: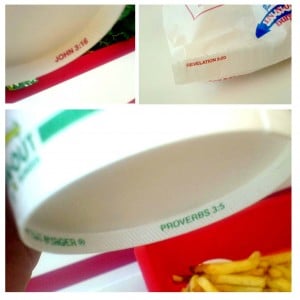 "Behold, I stand at the door and knock: if any man hear My voice and open the door, I will come in to him and will sup with him, and he with Me."
The soft-drink cups have that old favorite, John 3:16. But customers have to look up for themselves: "For God so loved the world that He gave His only begotten Son that whosoever believeth in Him should not perish, but have everlasting life."
Longtime customers will tell that In-N-Out has other secrets that it doesn't discuss. For example, there are the unlisted items.
If you tell a clerk you want a "Flying Dutchman" – which is not printed on any menu – will get you a bun, two meat patties and two slices of melted cheese, but no catsup, mustard or anything else.
Ask for "Protein Style" and you will get a burger wrapped in lettuce – no bun.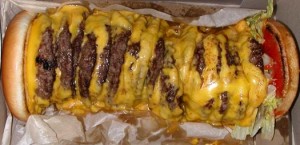 For those with a massive appetite, ask for a "20 by 20" and you will get 20 beef patties with 20 slices of cheese in a single bun.
Though times have changed, little has changed at In-N-Out. The menu – burgers, fries and drinks – is still the same that the Snyders started off with in 1948. In the July 24, 1989, issue of Forbes business magazine, then-president Rich Snyder stated, "It's hard enough to sell burgers, fries and drinks right. And when you start adding things, it gets worse."
Harry and Esther are gone now. Their son, Rich was killed in a plane crash in 1993. Younger brother Guy now heads up the company with other family members.
And why they print Bible verses on their hamburger wrappers apparently is going to remain a family secret.