One of the first book projects I ever proposed was an idea I called "Interviews with Homeless People." If you can't tell from the clever title, I wanted to go down to the local soup kitchen and sit down with the men and women there and get them to tell me their stories. Who they were, where they came from, and how they got here.
Because I hated that I just lumped them into one scruffy mass — "bums" or "the homeless" — instead of individuals.
And because I figured they had some stories worth hearing.
A publisher was interested, if I recall, but something else came up. I think another book project landed, and I never returned to the idea.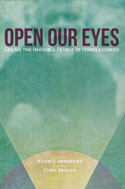 Now I don't have to, because my friend Kevin Hendricks has already written the book. Inspired by Mark Horvath, a homeless advocate with InvisiblePeople.tv, Kevin enlisted the help of several others in writing Open Our Eyes: Seeing the Invisible People of Homelessness — a book that includes a preface by Chris Brogan (author of the best-selling Trust Agents) and a contribution from big-time mom blogger Jessica Gottlieb, among others.
Open Our Eyes features gritty, true stories from 35 different homeless people — like Elvin, who said, "I used to have it all and ended up on the streets." Or Cecilia, who plasters a smile on her face for her kids' sake. If you want to put a real, human face on homelessness, read these stories. You'll be surprised. You'll have to set aside your misconceptions and re-examine your prejudices. And you'll want to help in a meaningful, productive way. The book tells you how.
But Open Our Eyes is more than educational. All proceeds go toward InvisiblePeople.tv, a nonprofit that continues to do inspiring work enlisting homeless men and women to tell their stories on video.
As IPTV founder Mark Horvath warns, these stories "will mess you up." But it's a good kind of messed up, and I'm glad Kevin has found a way to play a role in the messed-up-ness.
Go support the book and project.
The print copy of Open Our Eyes is available at Amazon for $9.99, and you can download the Kindle version for just $3.99.