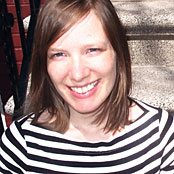 Back in May, I had the pleasure of meeting Carlene Bauer after a speaking gig at Marble Collegiate in New York City. We have mutual friends, and our friend Lauren invited her to the event because the two of us share an evangelical upbringing and adult predilection toward doubt. I returned to Texas with a copy of Carlene's memoir, Not That Kind of Girl, and finished it over the summer.
I've written briefly about it before, but Carlene's book is fantastic. It's deeply honest — as a memoir should be — and if you're interested in music, faith, doubt, writing, sexuality, and New York City, then you should go purchase it right this minute.
In addition to the book, Carlene has written for Salon, Slate, and n+1, and I'm thrilled that she agreed to write a guest post for "Voices of Doubt." Here it is:
————-
This summer I reread Thomas Hardy's Tess of the D'Urbervilles. It tells the story of a spiritually and physically radiant young woman who, after being seduced and abandoned by a distant cousin, falls tragically in love with an idealistic preacher's son. A scene about a third of the way through the novel caught my attention.
Tess is walking from her home through a valley to a new job, hoping to put her lost innocence, and her guilt over that lost innocence, behind her. It's May, everything's green, which moves her to sing, and what she finds herself singing are these lines from a hymn she remembered from childhood: "O ye Sun and Moon…O ye stars…ye Green Things Upon the Earth…ye Fowls of the Air…Beasts and Cattle…Children of Men…bless ye the Lord, praise Him and magnify Him forever!"
Tess, who has experienced the harsh judgment of true believers, feels that she's not fit to enter a church. All alone, however, very far from a steeple, she feels free to speak God's name. Hardy says that Tess's full heart, searching for a way to express its contentment, latched on to the old hymn not out of any deep love for the God who inspired it, but because she knew no other way to express what was an essentially pagan affinity with nature. Then, writes Hardy, "She suddenly stopped and murmured: 'But perhaps I don't know the Lord as yet.'"
I was surprised by these lines. I couldn't remember the last time I'd seen a character in literature allowed to linger in a hopeful, and not despairing or combative, state of doubt. (It doesn't happen very often in real life, either, as Jason and the other writers here can attest.) Here was someone untroubled by their own distance from the unknowable. As yet — the two words suggesting an unworried, unhurried progress toward comprehension. Tess wasn't frightened by what she didn't know; she wasn't afraid that God wouldn't want to know her. And she walked on, deeper into the valley.
Of course, by the end of the novel Tess won't have faith in anyone or anything. (If you read enough Hardy you can start to think the Lord is really asleep on the job.) But I found this picture of Tess comforting. I was raised evangelical but converted to Catholicism in my late twenties, and am now a former evangelical and a lapsed Catholic. I am someone who used to believe but is now lingering in a purgatory of doubt. I no longer go to church, and, depending on the day, waver between a yearning agnosticism and reluctant atheism. And right now my doubt, unlike Tess's, is less hopeful.
What is the nature of my doubt? I am wistful, I am wary, I am exhausted, I am greedy.
If a church's doors are open during Sunday Mass, and I'm out for a walk, I'll creep up to the entrance and eavesdrop on the liturgy, missing the peace that can be had while standing with other Christians speaking God's name aloud. I will wonder if my longing for the liturgy means that I long for what it reminds us of–our obligations to God and his promises to us. I will wonder whether it means that I still really do love him, and that there's no better place to practice loving one another but a Catholic church. Like Tess with her hymns, I know no other way to talk about how we should treat others but through the words of the Gospels. If the first thing I think of when I ignore a homeless woman on the subway is Jesus saying "Whatever you have done unto the least of them you have done to me," then I'm probably still a Christian, and should just turn myself in already.
Other times I tempt God on walks home from the subway, when I have a whole quiet street to myself in the dark: if you exist, God, I tell him, and you want me back the way my believing family members say you want me back, then show yourself in a spectacular way. I light candles in churches. I pray to saints. I demand things that I would have never demanded when I believed. Loosed from the daily responsibility to behave as a model, which means modestly hopeful, Christian, I feel free to make grand and desperate gestures. No one's watching or listening now. Just God, if he exists.
I tempt God because I suspect that believing would mean submitting myself to the scolding I grew up with: that things happen for a reason and that reason is to teach you a lesson about your own shortsightedness, that God knows better than you do what's best for you, that what one wants is never the right thing and always a false thing. I know it's childish, but I admit that I still hold a grudge against evangelical Christianity for exacerbating what is probably a congenital aversion to self-confidence. It seemed to me growing up that faith necessitated constant doubting of oneself, and I'm still recovering from those years spent second-guessing my intentions and desires.
When you are taught that there are very available answers to all your most pressing questions, it can be hard to let yourself have any questions at all — or trust that whatever answers you come up with, without God's help, will be the right ones. I used to have more of a Rilke-like exhilaration in the possibilities of what he called living the questions. But I'm older now, and "living the questions" seems like something dreamed up by the same sinister bureau of cultural groupthink that brought us the palliative catchphrases "Life is good" and "It is what it is." A credo only snowboarders, or people like them — brave, single-minded, gonzo with optimism — can utter without irony.
Needless to say, my candles and prayers have gone unanswered. Which makes me think of Simone Weil's notion that God loves us through his silence. In his silence, she says, we suffer, and in our suffering, which extinguishes our troublesome self, we become closer to him. As a writer I would want to end this piece with a statement of hope in a future reconciliation. I would want for a story of faith lost to end with faith regained, because it would be nice to think that the confusions endured would have meant something — would have made the return to God that much more joyous. I would know what I was: a prodigal daughter. But I think that I will be ready to love God again if I agree to be loved the way Simone Weil describes, and not because God offers consolations.
And if this ever happens, I have a feeling I'm going to be more like the prodigal son that Elizabeth Bishop describes in her poem "The Prodigal": "But it took him a long time/finally to make up his mind to go home."
————-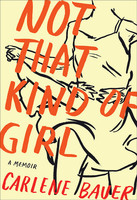 Thank you, Carlene. Carlene is currently at work on a novel about two writers — one who doubts and one who doesn't. Keep up with her on Facebook. Learn more about her here. And don't miss Not That Kind of Girl.
Previous posts in the "Voices of Doubt" series…
• Larry Shallenberger: The Knight and the Fortune Cookie
• David Dark on Sacred Questioning
• Cara Davis: A Textbook Case
• Matthew Paul Turner: Letting Them See My Doubt
• Sally Lloyd-Jones: Where Did You Put Your Faith?
• Chad Gibbs: When It Doesn't Seem Fair
• Leeana Tankersley: The Swirling Waters

•
Robert Cargill: The Skeptic in the Sanctuary
•
Dana Ellis: Haunted by Questions
•
Rachel Held Evans on Works-Based Salvation
•
Winn Collier: Doubt Better
•
Tyler Clark on Losing Fear, Losing Faith
•
Rob Stennett on the Genesis of Doubt
•
Adam Ellis on Hoping That It's True
•
Nicole Wick on Breaking Up with God
•
Anna Broadway on Doubt and Marriage