My novelist friend Tess alerted me to a fascinating profile of Ray Bradbury by John Blake at CNN. It talks a bit about Bradbury's prolific career as a sci-fi novelist and short-story writer, but the primary subject of the piece is Bradbury's faith.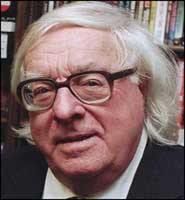 I'm not as schooled in Bradbury's work as perhaps I should be, but I was surprised to learn that he is a man of apparently deep faith and personal belief in God. Why am I surprised? I guess it's because so few sci-fi legends seem to be believers. Most, it seems, have identified themselves as atheist or agnostic. I'm thinking of writers like Isaac Asimov, Douglas Adams, Arthur C. Clarke, Robert Heinlein, Carl Sagan.
It's not universally true, of course. Orson Scott Card is Mormon, and I believe Philip K. Dick was an Episcopalian — and there's always C.S. Lewis — but the science-fiction genre has certainly seemed to be one in which writers often discuss religion but don't practice it themselves.
Bradbury, however, believes quite strongly in God. But don't lump him in just yet with orthodox Christianity.
Some highlights from the article:
• He describes himself as a "delicatessen religionist," inspired by religions of the East and West.
• Upon re-reading his past work, Bradbury says, "I sit there and cry because I haven't done any of this. It's a God-given thing, and I'm so grateful…"
• "At the center of religion is love," he says. "Everything in our life should be based on love."
• "Joy is the grace we say to God," he told his biographer, Sam Weller.
• Raised Baptist by infrequent churchgoers, Bradbury visited Catholic churches, synagogues, and charismatic churches in his attempt to come to terms with faith. Though he's been described as a Unitarian, he doesn't like the label. "I'm a Zen Buddhist if I would describe myself," he says. "I don't think about what I do. I do it. That's Buddhism."
• Bradbury doesn't call himself a Christian, but says "Jesus is a remarkable person" and considers him a wise prophet like Buddha or Confucius.
• He expects space exploration, as it expands, to "increase our
belief in God." He says, "We're moving toward more proofs of his
creation in other worlds he's created in other parts of the universe."
• Of Bradbury, Weller explains, "He says faith is necessary but that we should accept the fact that, when it comes to God, none of us know anything."
Read the full article: "Sci-fi legend Ray Bradbury on God, 'monsters and angels'"
————
Most Christians I know probably wouldn't accept Bradbury as one of our own — not with the "I'm a Zen Buddhist" stuff and his belief that Jesus was only a wise teacher — but the article reveals that one of our foremost writers of science fiction is a man of thoughtful, deep faith.
I'm thankful for that, regardless of the unorthodoxy of his beliefs.
"Joy is the grace we say to God." Amen.