Jason: So I see there's a new book shown over there in the right-hand sidebar.
JB: Yes, there is. What of it?
I was just noticing, that's all. It has an eye-catching cover, what with the bold yellow type and the dude with only half a face. Did you write a new book?
Not really. It's a repackage of my old book A Guy's Guide to Life.
What's a "repackage"?
It's a publishing thing when you take a previously existing book (right) and put a new cover on it to make it fresh and new (below). The goal is to reintroduce it to the market so you can sell more.
Is that a good thing?
Of course! The original Guy's Guide to Life was one of the first books I ever wrote. I'm proud of it. It released way back in 2004, but it's probably sold more than any of my other books to date. Sales have been pretty steady, year by year.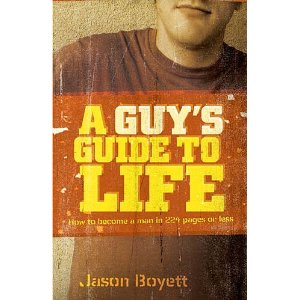 So why repackage it?
Because Thomas Nelson, my original publisher, thought it still had good advice and good potential. And because they wanted to reach a newer generation of guys. And because some of the pop culture references inside it were pretty dated.
As in…?
As in, I might lose a few teenage guy readers if I'm talking about, say, how hot Hilary Duff is.
Who?
Exactly. All references to the hotness of Hilary Duff have been updated, and now refer to the hotness of Scarlett Johansson. Or Megan Fox.
Why did you write a book about hot female celebrities?
I didn't. This is an advice book for young teenage guys. It has a bunch of stuff about manners and dating and communicating with parents and, well, a whole chapter about sex and the changes guys go through during puberty. The "hot female celebrity" thing sorta found its way into those topics.
So this isn't another one of your angsty, navel-gazing books about doubt?
Not at all. When I wrote it, I was quite comfortable in my Christian faith. Even though a few reviewers seem to think it's not Christian enough.
Really?
Really. You should go read the Amazon reviews. Some reviewers find my advice to be too worldly and "lukewarm" for Christian guys. It's also too spiritual for secular guys because I talk about Jesus. Also, it seems, I am too soft on purity issues like masturbation, which apparently I should have handled with less grace and understanding and more judgment.
Are you kidding?
I am not.
I can't believe you had two books release in the same year: one about doubting God and one about sex.
It's not a sex book. It's just one chapter. Sheesh. But anyway, guys that age have a lot of questions about sex, and my job was to answer their questions.
You have quite the range, Mr. Boyett.

Whatever.
Is there any new stuff in it besides the references to Scarlett Johansson?
Yep. There's new content throughout, including a whole new section on sexting.
Again with the sex. This is becoming the dirtiest blog post we've ever written.
I'm just stating the facts. All the sex stuff is a pretty big deal for teenage guys, as you can remember.
Don't bring me into this!
But there's also a bunch of practical stuff like how to shave, how to tie a tie, how to get along with your parents, and how to talk to girls. And the book itself is kind of funny, if I do say so myself.
Now you're sounding like an infomercial.
I apologize. Next question?
I have no further questions.
Great. Because this has gotten awkward.
Actually, just one more. Where can our readers get the book for their younger teenage sons?
Everywhere. Amazon. Barnes & Noble. Christianbook.com. And fine bookstores nationwide.
When you link to Amazon, are you in one of those affiliate programs where you get, like, half a cent if someone buys the book?
Yes. Full disclosure.
Thank you for your time. It's been a real pleasure interviewing you.

Same here.