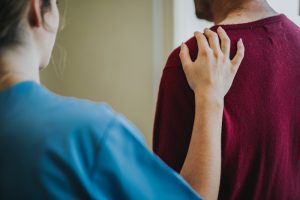 The following is a devotion from my message series 10 Steps to Freedom. I hope these devotionals help you experience lasting freedom in Jesus!
STEP TEN: day 4         
Give back and help others experience the freedom you now have
How can you begin to practically give back and help others experience the freedom you now have? Here are four ways to get you started:
1. Own your past but don't let it define you. You have to be willing to own what caused you to be enslaved for so long without letting it own you. Have you struggled with mental illness? Are you willing to talk about your journey? Have you struggled with an addiction to internet pornography? Are you willing to own it without it owning and defining you?
2. Share your story. Once you own your past you're willing to share it with others, not to bring attention to yourself but to give encouragement and hope to others walking through the same journey.
3. Help someone who is where you were at your worst. You'll be amazed at how God can bring some of your greatest purpose out of your greatest pain. You can't go back and change the decisions you made ten years ago, but God will bring someone to you who is you ten years ago that you can help keep from making the same mistakes.
4. Start a freedom group. You don't need to have 'arrived' to help others to freedom. You just need to be 'arriving' at freedom. Take what you're learning so far and walk through this material with a group of people. As you share with others you will reinforce freedom in your own life.
QUESTIONS FOR REFLECTION
Can you say that you own your past and are willing to share your journey with others? Have you shared your story with others yet willingly?

Who are 3-5 people you can invite to walk through this material with you in a Freedom Group? What's a day of the week and a location where you can have it?
You can read other devotional entries for 10 Steps to Freedom here.