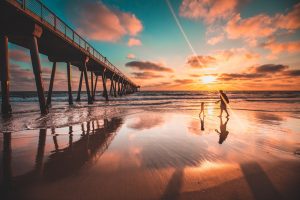 The following is a devotion from my message series 10 Steps to Freedom. I hope these devotionals help you experience lasting freedom in Jesus!
STEP THREE: day 2
Cultivate a relationship with your Heavenly Father
When Jesus walked on this earth, he accomplished many things, one of them being reintroducing humanity to its Creator. Over the centuries the worship of God had been twisted and distorted to the point where very few truly had a relationship with God. So when Jesus reintroduced us to God, he utilized one word over and over to refer to God: Father. Jesus wants us to interact with God in the context of an intimate relationship. Here's what he said:
"Which of you, if your son asks for bread, will give him a stone? Or if he asks for a fish, will give him a snake? If you, then, though you are evil, know how to give good gifts to your children, how much more will your Father in heaven give good gifts to those who ask him!" Matthew 7:9-11 
God designed families so that our natural fathers would be a glimpse into the love our Heavenly Father has for us. But for too many, our natural fathers were ones that gave us stones instead of bread, snakes instead of fish. Their absence, their sins, their wounds have left us with a twisted and corrupted view of who our Heavenly Father is. That's why God came in flesh and blood through His son Jesus, to show us tangibly the love the Heavenly Father has always had for us. One huge step towards your freedom is working through any father wounds you may have and beginning to truly see God as your perfect, loving, Heavenly Father. God doesn't love you more when you're good and less when you're bad. God's love isn't conditional. God loves you fully, simply because you're His.
QUESTIONS FOR REFLECTION
1. What was your relationship like with your own earthly father? How do you think your relationship (or lack of relationship) with your earthly father has affected your relationship with your Heavenly Father?
2. If you have kids, do you love them because they are good, or do you love them simply because they're yours? In light of that truth, how do you think God feels when He looks at you?
You can read other devotional entries for 10 Steps to Freedom here.